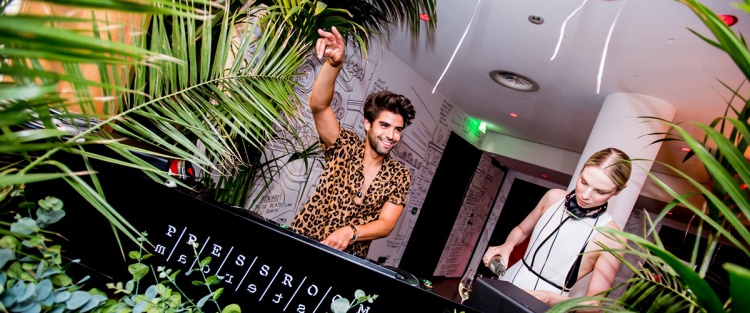 Prepare to be enchanted by the musical journey of Magic Mike, known to the world as Michael Armand. Hailing from the vibrant city of Rotterdam, he embarked on a musical odyssey that would lead him to the heart of Amsterdam.
Mike's love affair with dance music began at an early age within the walls of Rotterdam's iconic club, Now & Wow. Here, the fusion of house, pop, and a myriad of musical genres ignited a spark of inspiration that would fuel his lifelong passion. His stage name, like his music, embodies the very essence of passion and power.
Magic Mike possesses the remarkable ability to translate his profound love for music into a mesmerizing spinning style, a fusion of Allround with an electrifying edge. His groove-infused, funky club sound seamlessly blends with R&B, hip-hop, twerk, trap, and the hottest Top 40 hits, spanning from timeless classics to the latest chart-toppers. Whether you're young or young at heart, once you step onto the dance floor, you won't want to leave.
His performances are infectious, his creativity boundless, and his experience unmatched. Magic Mike has mastered the art of making every party an unforgettable success. His ability to effortlessly mix different styles ensures that the dance floor ignites with energy and enthusiasm. What sets him apart is his specialization in Latin Music, a nod to his South American roots. Picture the sultry rhythms of Samba, the sensual embrace of Salsa, the intoxicating allure of Bachata, and the pulsating beats of Latin house—all expertly woven into his sets.
Thanks to his truly unique sound, Magic Mike has become a sought-after name in the dance scene, with a calendar filled with bookings. His tracks have reverberated through the hallowed halls of renowned venues such as Escape in Amsterdam, The Supperclub, Paradiso, and club Air in the Netherlands. Beyond the Dutch borders, his music has enraptured audiences in Ibiza, Barcelona, and Austria.
Whether it's setting the mood with tasteful melodies during dinner or unleashing high-octane dance beats during cocktails, DJ Mike guarantees to keep you on your feet. Currently, he graces the decks as a resident DJ at prestigious establishments like the Harbor Club, Sushi Samba, Twenty Seven Hotel, and The Butcher.
Prepare to be spellbound by the musical magic of DJ Magic Mike; he's ready to make your event an unforgettable experience!