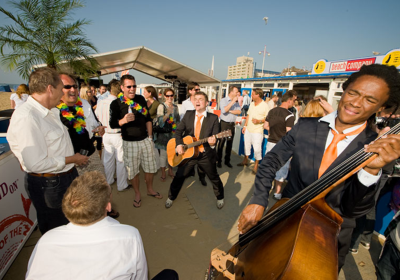 3 persons: vocals/guitar, double bass, percussion

3 x 30 min

Requests played in an acoustic envelop in super interactive show
Trio roept u maar (dutch for trio just say it) is the perfect acoustic trio. This Means you name it, they play it, anything and everything you want to hear! This band is entirely acoustic, mobile, very funny, and super spontaneous. Their mobile speaker and wireless connections make a sophisticated setup, which coupled with catchy vocals, double bass, acoustic guitar, and cajón, fulfill all your musical needs!
Their concept is as clear as a rock: you ask for a random number and they play it. Dressed in three-piece suits, the men play the audience's favorite songs by heart and on request.  Ultimately, the audience decides what to be played. Thanks to their boundless musical knowledge, they turn each request into a swinging medley on the spot. By virtue of their experience with the Coronas, Anouk, Paul de Leeuw, Golden Earring, Hans Liberg, Crazy Pianos, Van Velzen, Birgit, Metropole Orkest, they are able to effortlessly play what the audience wants to hear.
The ultimate acoustic Trio can be booked at any type of event; from company to terrace parties, Livestream to festivals, receptions, and weddings. Whatever the song, the acoustic adventurers will play it instantly. What is even more captivating is their over-the-top interactive energy with the audience reinforced not only on stage but in the whole venue. Trio Roept U Maar has registered fully accomplished performances at many live events. With more than 1000 performances in the past, this band is a guarantee for a successful party.