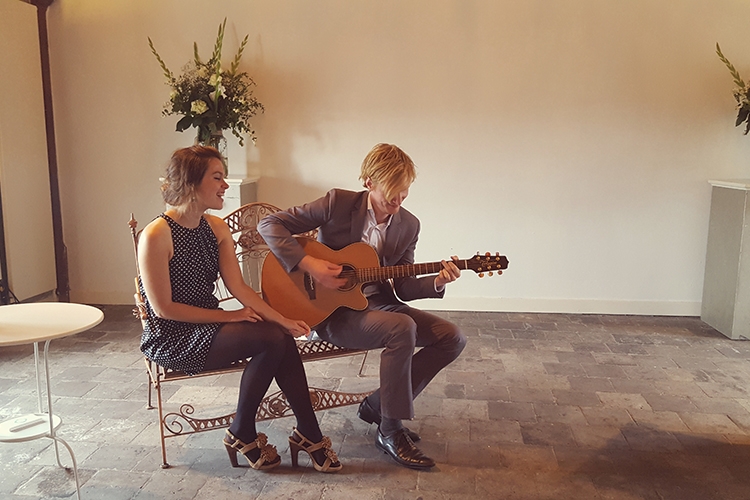 Introducing the dynamic musical duo, Daisy Acoustic, a powerhouse that needs nothing more than an acoustic guitar and a captivating voice to ignite your evening with unforgettable melodies.
Picture the ambiance of a cozy campfire on a balmy summer night—that's precisely the enchanting atmosphere Daisy Acoustic crafts. Together, they weave mesmerizing covers of timeless classics (think Aretha Franklin and Nina Simone) and contemporary hits (such as Ed Sheeran and Racoon)—songs that resonate with everyone.
Daisy Acoustic is a musical tour de force, a harmonious pairing that effortlessly blends the charm of yesteryear's classics (Nina Simone, Stevie Wonder, and Aretha Franklin) with the contemporary allure of Coldplay, Adele, and Bruno Mars. Their performance strikes the perfect balance, offering a repertoire that's both familiar and fresh, delivered with soulful vocals and the warm embrace of acoustic guitar. The result? A captivating atmosphere where music becomes a universal language that everyone can embrace and enjoy.
Adele – Rolling in the deep
Alicia Keys – Empire state of mind
Amy Winehouse – You know I'm no good
Amy winehouse Valerie
Beatles – Hold your hand
Beatles – She loves you
Bob Marley – One love
Bruno Mars – Treasure
Chefs Special – In your arms
Clean Bandit – Rather be
Coldplay – Clocks
Coldplay – Yellow
Colplay – Lost
David Guetta Dangerous
Dolly Parton – Jolene
Dua Lipa – Be the one
Ed Sheeran – A Team
Ed Sheeran – Thinking out loud
Ellie Goulding – Love me like you do
Etta James – I just wanna make love
Fun – Some nights
George Michael – Faith
Gnarls Barkley capo 1 – Crazy
Jackson 5 I want you back
Janis Joplin – Bobby mcgee
Jason Mraz – Hello you beautiful thing
Justin Bieber – Love yourself
Keane – Somewhere only we know
Kensington capo 1 – War
Lorde – Royals
Maroon 5 -capo 1 – One more night
Outcast – Hey ya
Prince – Kiss
Racoon – Love you more
Rihanna – We found love
Robbie Williams – Angels
Sia – Cheap Thrills
Steve joy – Riptide
Stevie Wonder I wish
The Weeknd – I cant feel my face
Train Hey soul sister
U2 – Ordinary love
U2 Pride
Years & Years – King