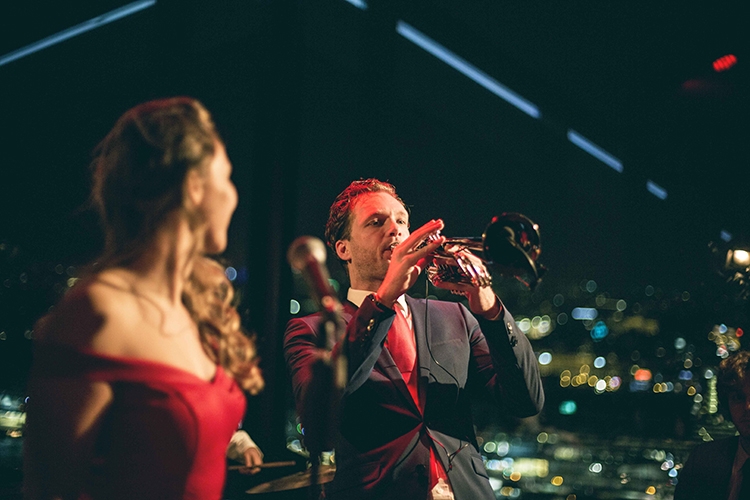 TWQ is Thomas Wessels Quintet. The band started in a different composition, but after several quests for the right formation, the band now consists of singer Britt Teeling, drummer Rachid Rejaibi, pianist Thijmen Schoute, Trumpet player Thomas Wessels and bass player Florean Kruijswijk Jansen. The band surprises the audience with an atmospheric mix of famous songs with American, West European, and African influences. Inspired by soul, disco & jazz, the group brings a varied mix of songs that suit the evening, whether it's delightful songs to just listen to that fit with a drink or a good dance on the floor. This versatile band offers an impressive musical experience and is a great addition to any party or event.
TWQ performs at weddings, corporate parties, and special meetings showcasing their fine-tuned presentation that the audience will enjoy. The band has played at several locations such as Taets Art Gallery, the Adam Tower, Club Air, Koetshuis de Zadelhof, the Harbourclub, Jazz hotel, and Grand Hotel Huis ter Duin.
Although TWQ is known as a jazz band, all band members master multiple music styles such as funk, R & B, Hip-Hop, Bebop, Swing, Soul & Latin. These impressive artists tell their stories through the music they make while incorporating freedom in melody and harmony. Jazz is unpredictable and requires considerable skill. It is this improvisation that makes a TWQ show so fascinating.
Soul & Jazz
Amy Winehouse – Valerie
Bill Withers – Ain't No Sunshine
Blackstreet – No Diggity
Boney M – Sunny
Chakha Khan – Ain't Nobody
George Michael – Faith
Jazz standard – Mercy Mercy Mercy
Jazz standard – Summertime
John Legend – Ordinary People
Otis Redding – Sittin on the Dock of a Bay
Prince – How come u Don't call me
Roberta Flack – Feel Like Makin' Love
Stevie Wonder – Higher Ground
Stevie Wonder – I Wish
Pop & Disco
Bobby Caldwell – What You Won't Do For Love
Chic – Good Times
Daft Punk – Get Lucky
Earth, Wind & Fire – September
Eath, Wind & Fire – Fantasy
Kool & the Gang – Celebration
Michael Jackson – Billy Jean
Michael Jackson – Shake Your Body Down
Michael Jackson & Stevie Wonder – I can't Help It
Stevie Wonder – Master Blaster
Stevie Wonder – Superstition
the Beatles – Come Together
the Beatles – Daytripper
the Beatles – Lady Madonna
the Beatles – Yesterday
the Jackson 5 – I Want You Back
the White Stripes – Seven Nation Army
Wild Cherry – Play That Funky Music
Latin & Brazilian
A.C. Jobim – Agua de Beber
A.C. Jobim – Corcovado
A.C. Jobim – Desafinado
A.C. Jobim – Wave
Astrud Gilberto – Manha de Carnaval
Astrud Gilberto & Stan Getz – Girl From Ipanema
Dexter Gordon – Blue Bossa
Dizzy Gillespie – Night in Tunisia
Horace Silver – Nica's Dream
João Gilberto – Besame Mucho
Sergio Mendes – Mas Que Nada
Instrumentals & Jazz Standards
Carla Bley – Lawns
Chet Baker – Here's that Rainy Day
Chet Baker – My Funny Valentine
Freddie Hubbard – Little Sunflower
Herbie Hancock – Cantaloupe Island
Herbie Hancock – Chameleon
Herbie Hancock – Sonrisa
Jaco Pastorius – the Chicken
John Scofield – Hottentot
Julie Andrews – My Favorite Things
Lou Donaldson – Alligator Boogaloo
Miles Davis – All Blues
Miles Davis – So What
Miles Davis – Stella by Starlight
Nat King Cole – Autumn Leaves
Roy Hargrove – Starmaker
Roy Hargrove – Strasbourg St. Denis
Sam Rivers – Beatrice
Wayne Shorter – Footprints
Other & Own repertoire
Pulp Fiction – Surf Rider
Quincy Jones – NOS Langs de Lijn tune
Toots Thielemans – Baantjer tune
TWQ – Jantje van Amsterdam
TWQ – Mambo Jam
TWQ – TWQ
Christmas
Klokjesgospel
Last Christmas
Christmas Song
Have yourself a merry little christmas
I'm dreaming of a White Christmas
Jingle Bells
Let It Snow
SantaClaus is Coming to Town
We Wish you a Merry Christmas