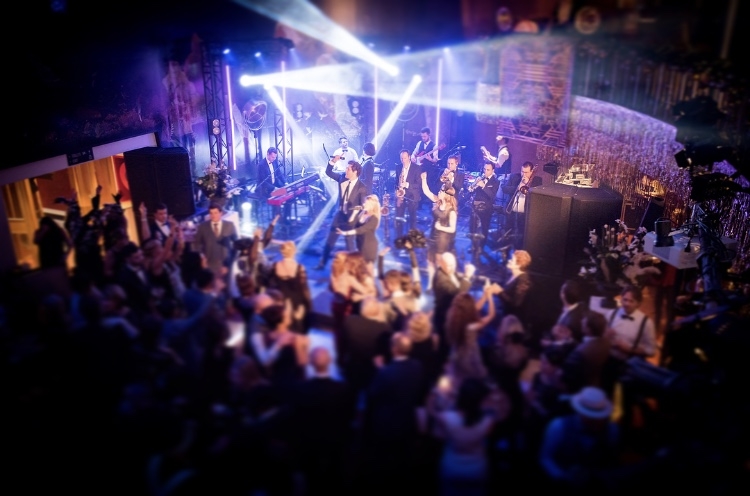 12 persons: 3x singer, bass, drums, guitar, keys, percussion, 4 horns

3 x 45 min

Stylish live band for partynight
Born XL is an energetic ensemble led by keyboard maestro Born Sanders, comprised of twelve talented musicians brimming with experience in the music industry. They've honed their craft as session musicians for renowned Dutch artists and on radio and TV. This exceptional band promises to transform any event into a remarkable spectacle, ensuring an unforgettable evening.
The breadth of Born XL's repertoire offers a diverse musical experience, encompassing hits by Bruno Mars, Stevie Wonder, Adele, Michael Jackson, Beyoncé, Ed Sheeran, and many more. Some of their beloved tracks include "Locked out of Heaven," "Ain't Nobody," "Shape of You," "Crazy in Love," "Valerie," "I Feel Good," "Superstition," "Celebration," "Happy," "Think," "Uptown Funk," "Brand new day," "Kiss," "When love takes over," and "Treasure," among others.
With their accomplished vocalists, Born XL not only ensures a fantastic dance-filled evening but also collaborates with prominent Dutch and international artists in various live performances. It's time to ignite the party spirit!
Born XL has previously shared the stage with well-known Dutch artists such as Pearl Jozefzoon, Chris Hordijk, Meike van der Veer, Wouter Vink, Charly Luske, Shirma Rouse, Romy Monteiro, Fais, Nigel Brown, Johnny Rosenberg, and Kim de Boer.
BORN XL plays songs from various artists such as Bruno Mars, Stevie Wonder, Adele, Michael Jackson, Beyoncé, Ed Sheeran and many others. Some of the songs we play are Locked out of heaven, Is not nobody, Shape of you, Crazy in love, Celebration , Valerie, I feel good, Happy, Brand New Day, Superstition, Think, Kiss, Uptown Funk, When love takes about, Treasure, Sept.