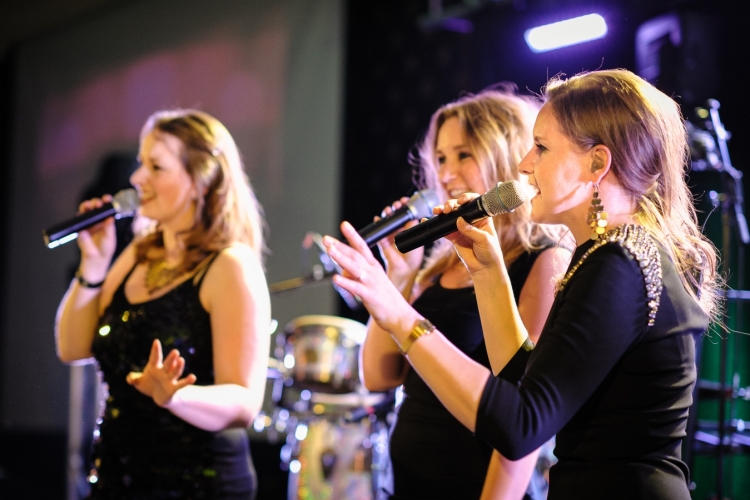 Looking for a cool band? Or do you prefer a DJ who plays modern lounge and dance music? 12dance is a live band with the best sound quality.
The band provides Live beats with a singer and if u wish saxophone and percussion. 12dance is a unique combination of a live keyboard player, DJ and producer with two or three vocals and possibly a saxophone player or percussionist. Christoph Völcker mixes live beats and plays his keys, computers and synths; singing, sax and percussion are also live. So you have the best of both worlds;  the live feeling of a band and the flexibility and sound quality of a well-put-together DJ. Talk about a completely new entertainment concept of top quality.
The musicians at 12dance have experience at the top of the event circuit. With the band from André Hazes they were in Ahoy, the Olympic Stadium and the ArenA. They played with John Miles, The Trammps, Marco Borsato, Willeke Alberti, Frans Bauer, Lee Towers, Anita Meijer, Jocelyn Brown and many others. Quality? Judge yourself.
The repertoire of 12dance has no limits. It is modern and innovative, including a relaxed lounge, where guests can have a good conversation, but also well-known dance from the nineties and zeroes, and disco hits from the seventies and eighties. With that, 12dance sets a good atmosphere and sets a good pace at the same time. This is a band that effortlessly moves with all the phases of your party.
24 k magic – Bruno Mars
All about that bass – Meghan Taylor
All of me – John Legend
Another day – Jamie Lidell
Back it up – Caro Emerald
Bang bang – jessie J, Ariana Grande
Blurred Lines – Robin Thicke
California Gurlz – Katy Perry
Can`t Stop the Feeling – Justin Timberlake
Carwash – Rose Royce
Chained to the Rhythm – Katy Perry
Cheap thrills – Sia
Conga – Gloria Estefan
Crazy in love – Beyonce
Disco Inferno – The Trammps
Domino – Jessie J.
Don't know why – Norah jones
Don't stop the music
Everything – Michael Bublé
Finally – Cece Peniston
Fireball – Pitbull ft. John Ryan
Get Here – Oleta Adams
Get Lucky – Daft Punk
Gotta feeling – Blackeyed peas
Happy – Pharrel Williams
Havana – Camila Cabello
Hit me baby one more time – Britney Spears
I m so excited – Pointer Sisters
It`s raining men – The weather girls
Lady Marmalade – Christina Aguilera
Last Dance – Donna Summer
Le Freak – Chique
Let's get loud – Jennifer Lopez
Macarena – Los del Rio
Mercy – Duffy
Natural woman – Aretha Franklin
No Limit – 2 unlimited
One day I'll fly – Randy Crawford
Parijs – Kenny B.
Price tag – Jessie J.
Push up – Freestylers
Put your records on – Corinne Bailey Ray
Rainbow in the sky – DL Paul Elstak
Raise your glass – Pink
Rather be – clean bandit
Relite my fire – John Hartman
Rhythm is a Dancer -Snap!
Shape of you – Ed Sheeran
Show me love – Robin S.
Sing it back – Moloko
Stay with me – Sam Smith
Super duper love – Josh stone
Think – Aretha Franklin
Thinking out loud – Ed Sheeran
To make you feel – Adele
Together again – Janet Jackson
Touch me here – Total touch
Treasure – Bruno mars
Uptown funk – Bruno Mars
Valerie – Amy Winehouse
Wannabe – Spice Girls
We are Family – Sister Sledge
We found love – Rihanna
We like to party – Venga boys