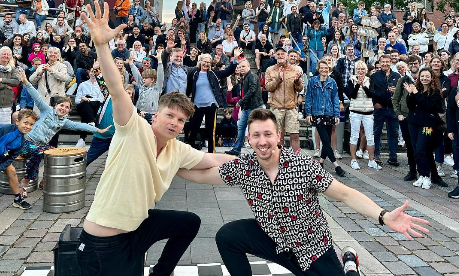 2 Actors

from 2 to 90 minutes

energetic spin show for your event
Step into a realm of unparalleled entertainment as the dynamic duo, Benno & Max, merge their multifaceted talents with a boundless zest for captivating audiences. With a digital presence boasting millions of views on Instagram and TikTok, as well as their engaging podcast "Spätzle mit Currywurst" on Spotify, they've enraptured followers spanning generations in both the virtual and real world.
Yet it is on the stage where their mastery truly shines. Through a cutting-edge crossover live show, they seamlessly weave together stand-up comedy, exhilarating game challenges, gravity-defying acrobatics, and an array of singular skills. But that's not all – brace for the exhilaration of their Crazy Salto Stunt and mesmerizing Bouncing Ball Act, all finely tuned to pulse-pounding perfection.
And then, in a crescendo of excitement, the spotlight falls on their World Champion Diabolo Act, impeccably accompanied by a Stand Up Comedy Warm Up that ignites the atmosphere. These two Berlin-based luminaries, boasting awards, world records, and the coveted title of diabolo world champions, curate a spectacle that shatters the boundaries of entertainment. With an infusion of spectacular humor, their performance is nothing short of an embodiment of "extreme comedy," destined to leave audiences spellbound and craving more.