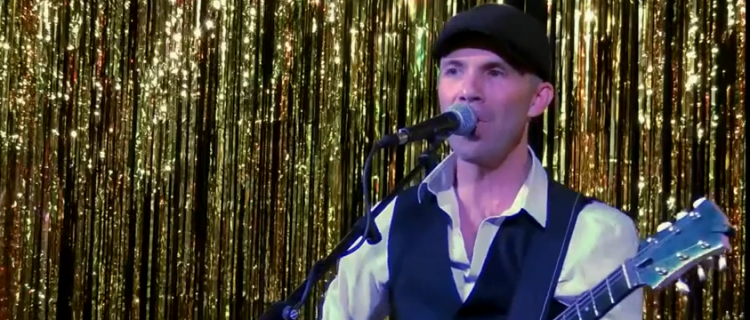 Singer-guitar player Sonny Griffin started his career as a bass player for a school band. During his study in Industrial Design, he made a living as a singer and guitarist for cover bands.
After graduating, he worked as an industrial designer, but music remained his passion. In 1995 it eventually became his profession. Since 1995, Sonny Griffin accomplished hundreds of performances in bars, restaurants, weddings, and corporate parties, from casinos to luxury cruise ships. As a solo artist, Sonny plays with vocals, guitar, and drum tracks all in a broad and versatile repertoire. With a lot of experience and a unique sound, he can handle the most diverse situations.
If desired, Sonny can play entirely acoustic or wireless amplified, and mobile where the music is needed.
ballad
Angels
Annie's song
Are you lonesome tonight
Cant help falling in love
Everything I do
Heaven
I swear
I will always love you
I'll be there
Imagine
Lady
Love is all around
My way
Stand by me
The rose
This is the moment
Three times a lady
Unchained melody
What a wonderful world
When a man loves a woman
Wonderful tonight
Yesterday
You are so beautiful
You've got a friend
You'll never walk alone
Jazz/easy listening
Ain't no sunsine
All of me
Autum Leaves
Daniel
Desperado
Emotions
Fly me to the Moon
Georgia on my mind
Have I told you lately
Hello
I can't tell you why
I don't wanna talk about it
Ive got you under my skin
Just the two of us
Just the way you are
Killing me softly
Lately
Mack the knife
Misty
Mona lisa
Moon River
Moondance
My baby just cares for me
My cherie amour
Nine million bycicles
Nobody knows you
One day I'll fly away
Rainy night in Georgia
Route 66
Strangers in the night
Summertime
Tears in heaven
The girl from Ipanema
This masquerade
Unforgettable
When I fall in love
You are the sunshine of my life
Pop
Aan de kust
Aint that just the way
All I wanna do
All you need is love
Another day
Another day in paradise
As long as you love me
Baby I love your way
Bad day
Breathe in
Dock of the bay
Don't dream its over
Drops of jupiter
Easy
Every kind of people
Every time you go away
Feel
Fire
High
I believe I can fly
I cant stand the rain
I just call to say i love you
I want it that way
If I could turn back..
If tomorrow never comes
If You Believe
Im like a bird
Im on fire
Kokomo
Lady in Red
Layla
Let it be
Life is a rollercoaster
Losing my religion
Me and bobby mcgee
Midnight train to Georgia
Money don't matter tonight
More than words
My girl
Nightshift
Nikita
One
One word
Perfect
Quit playing games with my..
Rigth here right now
Sailing
Save tonight
Senza una donna
Still havent found
Stuck in the middle
Stuck on you
This love
Three wise men
Tonights the night
Uptown girl
Walk on the wild side
Walking away
Walking in Memphis
Weather with you
What's going on
What's up
When you say nothing at all
Whiter shade op pale
Whole again
Wild world
Winter In America
With a little help from..
Wonderwall
You
You might need somebody
Your song
Youre beautiful
Oldies
Achy breaky heart
All you ever do is bring me down
Always on my mind
American Pie
Annies song
Bad bad Leroy brown
Bad moon rising
Blue Bayou
Blue suede shoes
Blueberry hill
Bright side of the road
Brown eyed girl
Buonasera
Bye bye love
Can't buy me love
Che sera
Close to you
Country roads
Crazy little thing called love
Crocodile rock
Dance the night away
Fifty ways to leave your lover
Green grass of home
Hello Mary Lou
Hey Jude
Hit the road jack
Hound dog
If I had a hammer
If I said you have a beautiful body
Islands in the stream
Isn't she lovely
It's not unusual
Jambalaya
Just a gigolo
Keep on Smiling
Late in the evening
Lay down sally
Let your love flow
Let's twist again
Living doll
Mrs Robinson
Never let her slip away
Oh lonesome me
Pretty woman
Reet petite
Return to Sender
Rock around the clock
Rose garden
Save the last dance for me
Tennesee Waltz
The boxer
The twist
Top of the world
Under the boardwalk
Wake up little susie
When the saints go marching in
Whole lot of shaking going on
Wonderful world
You can't hurry love
You got it
Disco
All around the world
All night long
Allways there
Angel
Back in love
Black or white
Blame It On The Boogie
Brickhouse
Can't get you out of my head
Cant take my eyes off you
Chain of fools
Celebration
Copacabana
Crazy
Dancing in the street
Dance little sister
Dancing Queen
December 63
Disco Inferno
Don't leave me this way
Don't you worry bout a thing
Faith
Feeling allright
Get down on it
Give it up
Give me the night
Hard to handle
Heaven must be missing an angel
Holiday
I feel good
I will survive
I wish
Ive got the music in me
Kiss
Knock on wood
Kung fu fighting
Lady marmelade
Life
Listen to the music
Long train running
Love Generation
Love is in the air
Lovely day
Missing
More than a woman
Mustang Sally
Never can say goodbye
On broadway
Papa was a rolling stone
Play that funky music
Please don't go
Real mother for ya
Respect
Sex machine
Shame shame shame
Signed sealed delivered
Something got me started
Soulman
Streetlife
Superstition
Take me to the river
Think
Thinking about you
Thunder in my heart
Unchain my heart
Virtual Insanity
Why did you do it
Word up
Would I lie to you
You to me are everything
Rock
2 princes
Angie
Baby when you're gone
Bad case of loving you
Beast of burden
Black magic woman
Born to be wild
Cant allways get what you want
Brown sugar
Cocaine
Don't stop
Every breath you take
Get back
Honky Tonk women
Hotel California
Hungry heart
I can see clearly now
I saw her standing there
I'm a believer
Johnny B. Goode
Jumping Jack flash
Knocking on heavens door
Lido shuffle
Light my fire
Like the way I do
Lola
Maggie May
Need your love so bad
Nothing else matters
Patience
Purple rain
Radar love
Right next door
Rock this town
Roxanne
Sacrifice
She's not there
Show me the way
Smooth
So lonely
Start me up
Still got the blues
Sultans of swing
Summer of 69
Suspicious minds
Sweet home Alabama
Sweet home Chicago
Sympathy for the devil
Take it easy
The best
The Joker
The river
Under my thumb
Under the bridge
Waiting on a friend
Walk of life
When the lady smiles
Where the streets have no name
You ain't seen nothing yet
Party
A little less conversation
Amarillo
Baggy trousers
Don't worry be happy
Everybody needs somebody
Greased lightning
Great balls of fire
Hey Baby
I go to rio
Jailhouse rock
Just say hello
Ketchup song
La Bamba
Let me entertain you
Living la vida loca
Living next door to Alice
Macarena
Mambo nr5
Mockingbird hill
Obladioblada
One step beyond
Paradise by the dashboard..
Proud mary
Rivers of Babylon
Satisfaction
Sex bomb
Tequila
Thank god I'm a country boy
The lion sleeps tonight
Tutti frutti
Twist and shout
Una paloma blanca
Venus
Wild thing
Volare
Wake me up before you gogog
Walking on sunshine
What I like about you
Whenever Wherever
YMCA
You can leave your hat on
You're the one that I want
Reggea/latin
All that she wants
Could you be loved
Don't look back
Dreadlock holiday
I shot the sheriff
Is this love
Kingston town
Master Blaster
No woman no cry
One love
Oye como va
Red red wine
Redemption song
Someone loves you honey
Stir it up
Sweat
The conga
The tide is high
You can call me Al
Nederlands
Als sterren aan de hemel staan
Banger hart
Belgie
Bestel mar
Binnen
Bloedend hart
De Clown
De Regenboog
De Vlieger
Dromen zijn bedrog
Een beetje verliefd
Een eigen huis
Even aan mijn moeder vragen
Geef mij je angst
Heb je even voor mij
Het is een nacht
Hier
Iedereen is van de wereld
Ik kan het niet alleen
Ik meen het
Ik zing dit lied voor jou alleen
Je hoeft niet naar huis vannacht
Kapitein deel 2
Kleine café aan de haven
Kom van dat dak af
Lang zal die leven
Laura
Liefs uit londen
Niet of nooit geweest
Oerend hard
Per spoor
Rood
Stil in mij
Suzanne
Vrienden voor het leven
Zij gelooft in mij
Divers
All I want for xmas
Auld langsyne
Driving home for xmas
Happy birthday
Happy birthday Stevie
Happy Christmas war is over
Happy newyear
Hark the herald angels sing
Have yourself a merry little Christmas
Jingle bells
Last christmas
Merrry xmas everybody
Santa claus is coming to town
Silent night
White Christmas
Wonderful christmas time