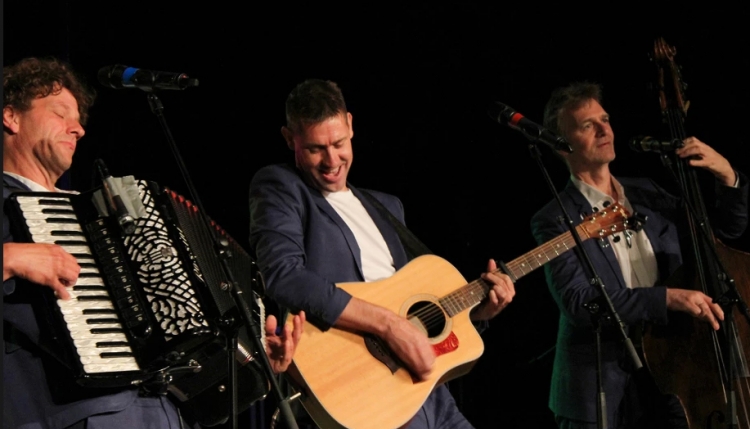 1 person: singer-guitarplayer

3 x 45 min

Mix of well known and own songs
Paul de Graaf is a professional singer guitarist with the cool rock of Bryan Adams and brings the message of dutch singer Stef Bos. Since 2000, Paul has been living for and from music, with more than 100 performances per year.
Every school boys dream? Yes of course, but most importantly: Follow your heart and pursue your dreams! Paul de Graaf plays to the people. He mixes with the audience to make it a beautiful party together! Sing along, dance and fold with moving moments. Energetic, versatile, pure and genuine.
Dutch repertoire
32 jaar – Doe Maar
Aad waere mit dich – Ge Rijnders
Allemaal gestolen – Paul de Graaf
Alles is liefde – Blöf
Als het vuur gedoofd is – Acda en de Munnnik
Als je wint – Brood & Vrienten
Als ze er niet is – De Dijk
Ankie – Jan Rot
Annabel – Hans de Booy
Avond – Boudewijn de Groot
Beauty & Brains – Nielson
Ben ik te min – Armand
Blijf bij mij – Paul de Leeuw/Ruth Jacott
Brabant – Guus Meeuwis
Daar bij de waterkant – Eddy Christiani
De Stad Amsterdam – vertaling (origineel=Jaques Brel)
De Troubadour – Lenny Kuhr
drinklied – Pekel
Groot Hart – De Dijk
Hart & Ziel – Trockener Kecks
Het Dorp – Wim Sonneveld
Het ei – Jaap Fischer
Het is altijd lente in de ogen van de tandartsassistente – Peter de koning
Het is een nacht (Levensecht) – Guus Meeuwis
Het leven is goed in het Brabantse land – Oh Sixteen Oh Seven
Hier aan de kust-Blof – Blöf
Hier-Blof – Blöf
Hij/Ze leven hoog – traditioneel
Hip Hip – De Sjonnies
Iedereen is vd Wereld –The Scene – The Scene
Ik hou van alle vrouwen-hans de B – Hans de Booy
Ik kan het niet alleen – De Dijk
Ik voel me zo verdomd alleen – Danny De Munck
Jolande – Harrie Jekkers
Kleine café aan de haven – Vader Abraham
Kom van dat dak af – Peter Koelewijn
Laat mij maar alleen – Klein Orkest
Lang zullen ze/zal hij leven – traditioneel
Leve't Nijlpaard – Klein orkest
Liefde voor muziek – Raymond vh Groenewoud
Mannen met baarden – traditioneel
Niemand in de stad – De Dijk
Niet of nooit geweest – Acda en de Munnnik
Oerend hard – Normaal
Oh-Oh Den Haag – Harry klorkesteijn
Opzij – Herman van Veen
Raak – Rob Stoop
Stappen (4 dagen lang) – Paul de Graaf
Stil in mij – Van Dik Hout
Suzanne – VOF de Kunst
Engels
2 Princess – Spin Doctors
All Star – Smash Mouth
Always on my mind – Elvis Presley
As tears go by – Rolling Stones
Back for good – Take That
Believer – The Mokees
Blue Suede Shoes – Elvis Presley
Boys don't cry – The Cure
Break away – Tracy Ullman
Another brick in the wall – Pink Foyd
Can't get you out of my head – Kylie Minogue
Centerfold – J Geils Band
chariot – Gavin DeGraw
Country Roads – John Denver
Don't worry be happy – Bobby Mc Ferrin
Don't dream its over – Crowded house
Down Under – Men at Work
Dreadlock holiday – 10CC
Dutch Mountains – The Nits
Easy – The Commedores
Every little thing she does is magic – The Police
Everybody needs somebody – The Blues Brothers
Fire – Bruce Springsteen
Glory Days – Bruce Springsteen
crazy little thing called love – Queen
Great Balls of fire – Jerry Lee Lewis
and many others