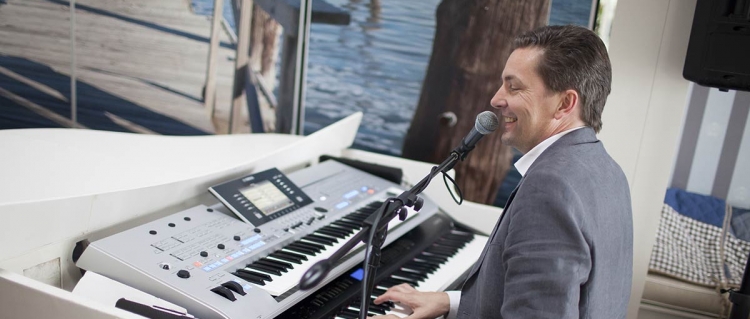 1 person: singer pianoplayer

4 x 45 min

Exceptionally all-round singer/piano player
The Singing Pianoplayer has played at many parties with great music. He is a welcome guest at corporate events, receptions, and drinks. Big or small, intimate or festive, he will light up your event.
He plays solo but also likes to come with other musicians. For example, he can be booked with a 2nd singer-pianist for a fantastic dueling piano show or with an extra singer and/or saxophonist. The Singing Pianoplayer has a widely extended repertoire and sets the right atmosphere at your party.
Oldies
A foggy day
Ain't Misbehaving
All of me
All the things you are
As time goes by
Autumn Leaves
Ballads
Besame mucho
Blue moon
Blueberry Hill
Bluesette
Body and Soul
Buena Sera
Cry me a river
Daydream
Desifinado
Don't cry for me Argentina
Don't explain
Fever
Fly me to the Moon
Georgia on my mind
Girl from Ipanema
God bless the child
Hello Dolly
Hello Mary Lou
Honeysuckle Rose
How high the moon
How Insensitive
I can't give you anything but love
I get a kick out of you
I got the world on a string
I'm beginning to see the Light
In the Mood
It don't mean a Thing
I've got you under my skin
Just friends
Just one of those things
La vie en rose
Let there be love
Lets do it
Lili Marleen
Love and Marriage
Lullaby of Birdland
Mack the knife
Memory
Misty
Moondance
Moonlight in Vermont
Mr. Sandman
My baby just cares for me
My funny Valentine
My way
Nature boy
Ne me quite pas
New York New York
Nice work if you can get it
Night and Day
No more blues
Nobody knows you when you're down and out
One note Samba
Over the rainbow
Quiet stars of quiet nights
Raindrops keep falling on my head
Red roses for a blue Lady
Satin doll
Shadow of your Smile
So Nice
Speak Low
Stormy Weather
Strangers in the Night
Summertime
Tenderly
That old devil called love
The lady is a tramp
The more I see you
There' s a place for us
This Masquerade
Those were the days
Unforgettable
Watz for Debby
What a difference a Day made
What a wonderful world
What is this Thing called Love
When I fall in love
When the saints go marching in
You 've changed
You'll never walk alone
Ballads
A lovely day
A night like this
Against all odds
Aint no sunshine
All of me
Always in my mind
Angels
Angie
Annie's song
Blue eyes
Budapest
Can you feel the love tonight
Candle in the wind
Careless whisper
Claire
Close to you
Cups
Don't know why
Easy
Everlasting love
Every breath you take
Everything
Fire and Rain
Fragile
Get here
Hallelujah
Have a little faith in me
Have I told you lately that I love you
Heaven
Hello
Hey Jude
Holiday in Spain
Home
Honesty
Hotel california
How deep is your love
I can't help falling in love with you
I just called to say I love you
Im Yours
Imagine
Isn't she lovely
It must be love
Jessie
Just the way you are
Killing me softly
Knocking on heaven door
Lady in Red
Let her go
Let it be
Love you more
Love yourself
Mandy
Marry you
Michelle
Mr Bojangles
My cherie amour
New York state of mind
One
One call away
One day I'll fly away
Pennylane
Pianoman
Promise me
Rose
Roxanne
Sailing
Saving all my love for you
She
She's always a woman
She's the one
Someone like you
Song for guy
Sorry seems to be the hardest word
Stand by me
Still haven't found what I'm looking for
Stuck on you
Sunny
Tears in heaven
That's what friends are for
The A team
The lazy song
Thinking out loud
To make you feel my love
Under the boardwalk
Uptown girl
Use somebody
Via con me
When you say nothing at all
Who says
Winter in America
With a little help of my friends
Wonderfull tonight
Yellow Submarine
Yesterday
You are so beautiful
You are the sunshine of my life
You give me something
Your song
You've got a friend
Rock 'n Roll
Bad, Bad Leroy Brown
Be Bob A Lula
Blue suede shoes
Come on everybody
Crazy little thing called love
Crocodile Rock
Don't be cruel
Everybody needs somebody to love
Good Golly Miss Molly
Great balls of fire
Hippy Hippy Shake
Hounddog
Jailhouse Rock
Johnny be good
Lady Madonna
Let's twist again
Pretty woman
Reet Petite
Return to sender
Rock around the clock
Route '66
Shake, Rattle and Roll
Stuck on you
Sweet home Alabama
Sweet home Chicago
Sweet sixteen
That will be the day
Tutti Frutti
Wolly Bully
Dutch
Aan de Amsterdamse grachten
Alles is liefde
Als de morgen is gekomen
Als de nacht verdwijnt
Banger hart
Beauty en de brains
Bij ons in de Jordaan
Bloed, zweet en tranen,
Brabant
Daar gaat ze
De glimlach van een kind
De meeste dromen zijn bedrog
De vlieger
Dochter
Een beetje verliefd
Een eigen huis
Een vriend
Foxy foxtrot
Geef mij je angst
Geef mij maar Amsterdam
Geef mij nu je angst
Het dondert en het bliksemt
Het is een nacht
Hoogste tijd
Ik heb de hele nacht liggen dromen
Ik heb je lief
Ik hou van jou
Ik kan het niet alleen
Ik leef niet meer voor jou
Ik meen het
Is dit alles
Kleine cafe
Kleine jongen
Kom van dat dak af
Laat me
Leef
Mag ik dan bij jou
Marguerita
Morgen
Nee,je hoeft niet meer naar huis vannacht
Niet of nooit geweest
Oh, Waterlooplein
Proosten
Rosanne
Samen zijn
Stiekem met je gedanst
Stil in mij
Suzanne
Tranen gelachen
Tulpen uit Amsterdam
Zij gelooft in mij
Dance
Ai se eu te Pego
All night long
Celebration
Copacabanna
Dancing queen
Don't you worry about a thing
Faith
Get Lucky
Happy
I feel good
I'm so excited
I'm still standing
Let me entertain you
Mambo nr 5
Proud Mary
Satisfaction
Sexbom
Soulman
The summer of 69
The way you make me feel
Valerie
Viva la vida
Voulez vous couchez
Wake me up before you gogo
Walking on sunshine
Waterloo
YMCA
You can't hurry love
Pop
A hard days might
Always look on the bright side of life
American Pie
Baby I love your way
Brown eyed girl
Can't buy me love
Can't take my eyes of you
Clocks
Country road
Dock of the bay
Dreadlock holiday
Drive my car
Fire
Follow Rivers
Get back
Grapvine
I shot the sheriff
Jamming
La Bamba
Life is Life
Light my fire
Lola
Love is in the air
Money, Money, Money
Moondance
No woman no cry
Oh bla di oh bla da
Parttime lover
Piano man
Red red wine
Sultans of swing
Sunshine Reggae
Sway
Tequila
The Joker
Unchain my heart
Une belle histoire
Uptown girl
Walk of live
Walk on by
Wonderwall