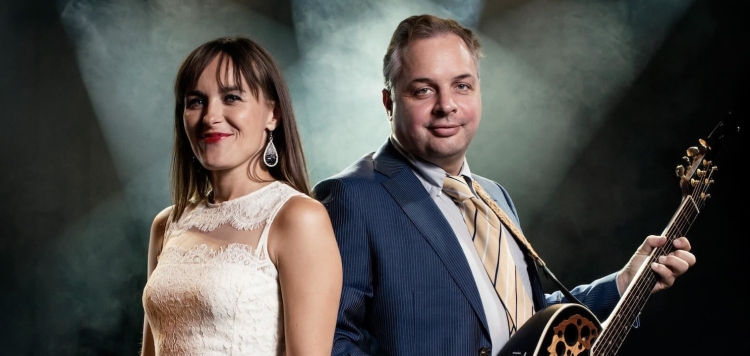 1x singer, 1 guitarist

3x45 minutes

Intimate and fun music for your wedding ceremony
If you want personal, loving music for your wedding ceremony, you'll appreciate orange blossom and their lovely guitar playing.
Orange Blossom is made up of vocalist Anne Chris and guitarist Richard Hickmann. This seasoned and competent team specializes in providing music for wedding ceremonies. Orange Blossom will play three or four songs chosen by you during the wedding ceremony. At predetermined times, these are played acoustically or slightly amplified. When the groom arrives, when the bride is 'given away,' upon signing the marriage certificate, or when leaving the wedding hall, for example, a number is frequently picked. Other moments, such as before or after a speech, are also possible.
Anne Chris and Richard Hickmann take your musical requests very seriously and will do all in their power to make your wedding ceremony as unique as possible. Feel free to choose from their extensive repertoire, or if your favorite song isn't on the list, it's no issue for them to rehearse it just for you! Furthermore, during the subsequent cheering and reception, this dynamic duet can provide (background) music. Orange Blossom will then play two sets of the most exquisite love songs, allowing you to celebrate your marriage in the proper setting.
A night like this -Caro Emerald
A Thousand Years -Christina Perri
All of me -John Legend
As -Stevie Wonder
At last -Etta James
Can't help falling in love -Elvis
Come away with me -Norah Jones
Eternal Flame – The Bangles
Everything -Michael Buble
Everything I do, I do it for you -Bryan Adams
Feeling good -Nina Simone
Fields of Gold -Sting
Hallelujah I love him so -Ray Charles
Happy -Pharrell Wiliams
Have I told you lately -Rod Stewart
Heaven -Bryan Adams
I don't want to miss a thing -Aerosmith
I got a woman -Ray Charles
I just called to say I love you -Stevie Wonder
I will always love you -Whitney Houston
I'll be there -Mariah Carey
If I ain't got you -Alicia Keys
Just the two of us -Bill Withers
Listen to your heart -Roxette
Love is all around -wet wet wet
Lovely day -Bill Withers
Loving you -MinieRipperton
My Cherie amour -Stevie Wonder
My funny Valentine -Chet Baker/ Ella Fitzgerald
My Girl -Temptations
My one and only love -Frank Sinatra
Perfect -Fairground attraction
Right here waiting for you -Richard Marx
Sinds een dag of twee -Doe maar
Sunny -Ella Fitzgerald
That's Amore -Dean Martin
The look of love -Dionne Warwick
The Power of Love -Gabrielle Aplin
Thinking out loud -Ed Sheeran
What are you doing the rest of your life -Sarah Vaughan
Without You – Mariah Carey
Wonderful Tonight -Eric Clapton
Wonderful world -Sam Cook
You -Ten Sharp
You are so beautiful -Joe Cocker
You are the sunshine of my life -Stevie Wonder
You've got a friend -Carole King
Your love is king -Sade
Your Song -Elton John