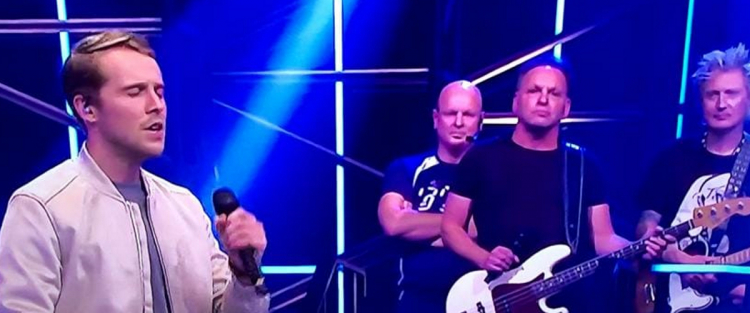 1 person: singer

1x 30 min

Charming cover of well known songs
The Netherlands has a new talent in Joep Hoedemakers! This singer-songwriter from Nuenen has been working on making his own act for some years now. Joep started by covering well-known songs, to which he gave his own sound. His strength lies in making a song sensitive and making it connect with people. He also adds flair by putting power in the songs when necessary, with a small raw edge.
Recently Joep has been studying at Rock City Institute in Eindhoven. In 2021 he participated in the tv show "Beat Me" on SBS 6 where he defeated all his opponents in the battles for 5 weeks and took home the top prize. He is now ready for the world, they will soon see more of this fabulous singer! His first own music is in production.. and not with the least names from the Dutch top!
Joep Hoedemakers 
All Of Me – Sam Smith
Bruises – Lewis Capaldi
Budapest – George Ezra
Can't Help Falling In Love – Elvis Presley
Dat Heb Jij Gedaan – MEAU
Driver's License – Olivia Rodrigo
Easy On Me – Adele
Everything I Wanted – JP Cooper (cover version)
Fly Me To The Moon – Frank Sinatra
FRIENDS – Anne-Marie
Ghost Town – Benson Boone
Half A Man – Dean Lewis
Hallelujah – Jeff Buckley
Hey There Delilah – Plain White T's
How To Save A Life – The Fray
How Will I Know – Whitney Houston
Hurtless – Dean Lewis
I'm Yours – Jason Mraz
In The Stars – Benson Boone
In Your Arms – Chef's Specia
Iris – Goo Goo Dolls
Let Her Go – Passenger
Love You More – Racoon
Make It Rain – Ed Sheeran
Naked – James Arthur
No Diggity – Ed Sheeran & Passenger
Say You Won't Let Go – James Arthur
See Beneath Your Beautiful – Labrinth
Shallow – Bradley Cooper & Lady Gaga
Soldier On – Direct
Someone you loved – Lewis Capaldi
Stay With Me – Sam Smith
Supermarket Flowers – Ed Sheeran
Take Me Home Country Roads – John Denver
The Way You Make Me Feel – Michael Jackson
Thinking out loud – Ed Sheeran
This Town – Niall Horan
Uncharted – Kensington
Visiting Hours – Ed Sheeran
Wake Me Up – Avicii
When I Was Your Man – Bruno Mars
When We Were Young – Adele
Wicked Game – Chris Isaak
You Are The Reason – Calum Scott