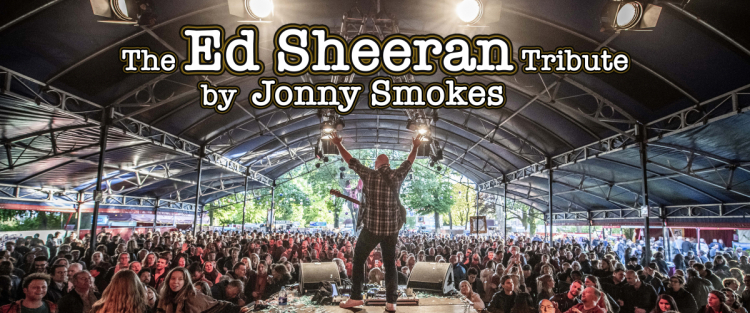 1 person: singer/guitarplayer

2 x 45 minutes

Smashing hits of Ed Sheeran
Ed Sheeran, the global sensation known for his immense popularity and boundless talent, consistently captures the hearts of fans worldwide. His concerts in the Netherlands sell out instantly.
The Ed Sheeran Tribute, a one-man show, masterfully reimagines Ed Sheeran's iconic music. Jonny Smokes, equipped with his loop station and guitars, takes the concept of a one-man band to new heights. He recreates Ed Sheeran's atmosphere and sound with astonishing precision. Hailing from Seattle, USA, and now based in Den Haag, NL, Jonny Smokes shares his heartfelt live music with a global audience.
Jonny's latest CD, "Reflections," delves into introspection and showcases his acoustic prowess with hints of pop and progressive rock. The Ed Sheeran Tribute Show flawlessly captures Ed's live energy, featuring all the biggest hits and fan favorites, guaranteeing a night of sing-alongs. Jonny's mastery of multiple instruments, combined with his charismatic stage presence, captivates audiences worldwide. He employs various effects, pedals, and a loop sampler to craft songs in real time, delivering a unique concert experience every time!
With over 300 popular cover songs spanning various genres, Jonny Smokes' diverse repertoire unites audiences and ensures a thrilling and enjoyable party for all.