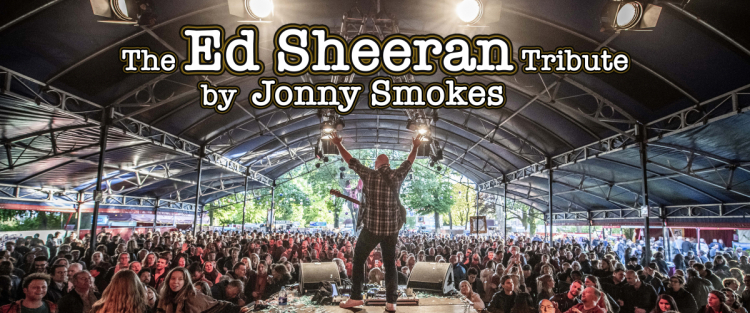 1 person: singer/guitarplayer

2 x 45 minutes

Smashing hits of Ed Sheeran
Ed Sheeran is very popular and mega-talented. With his music, Ed Sheeran captivates the hearts of people all around the world time and time again. His concerts in the Netherlands are sold out in no time.
The Ed Sheeran Tribute is a one-man tribute show. With his loop station and guitars, Jonny Smokes redefines the concept of a one-man band and creates the atmosphere and sound just like Ed Sheeran does. Formerly from Seattle USA,  currently based in Den Haag NL, Jonny Smokes plays live music with an open heart for the whole world to enjoy! With each of his albums, Jonny Smokes is always exploring new versions and sounds. Fully self-recorded and produced, with every instrument and even the artwork done by Jonny, these are truly personal creations. His latest CD "Reflections" is an introspective and personal journey into his heart, showcasing his acoustic side with subtle elements of pop and progressive rock.
Covering Ed Sheeran may seem impossible, but with The Ed Sheeran Tribute, Jonny Smokes proves the opposite. Every song is crafted to be as sonically close to the album versions as possible, while also showcasing elements of Sheeran's best live sessions. The Ed Sheeran Tribute Show authentically captures the feeling of Ed's live energy, playing all the biggest hits and fan favorites__ from "Shape of you" and "I don't care" to the classics like "A-team" and "Thinking out Loud". You are guaranteed to sing-along all night! Thanks to his mastery of multiple instruments, and his enthusiastic showmanship, he displays a tremendous talent that leaves crowds amazed. Masterfully, using various effects, pedals, and a loop sampler to record his voice, guitar, and other instruments, he artistically composes full songs right before the audience's eyes and ears, creating a unique experience at every concert!
Jonny has a genuinely warm and humorous stage personality that has earned him thousands of loyal fans and friends worldwide. With over 300 popular cover songs, Smokes performs a wide variety of music styles ranging from laid-back folk ballads, upbeat party pop, alternative rock, hip hop, and even grunge and heavy metal! This sonic diversity brings everyone in the room together, creating an exciting party that everyone is guaranteed to enjoy.