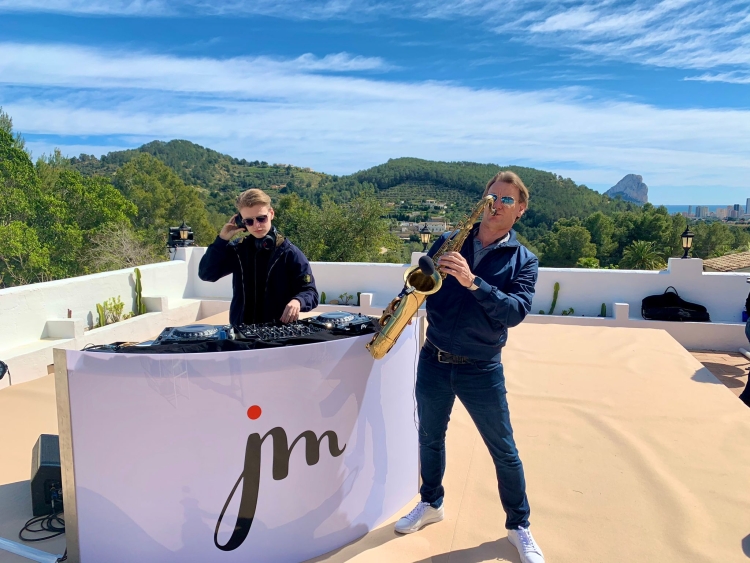 1 x saxophonist, 1 x Dj

4 hours

Unbeatable combination of live saxophone and DJ power for your event.
Looking for a top-notch live act to make your event truly unforgettable? Look no further than Dj Saxo Beat! With a repertoire that's perfect for both background music and dancing, Dj Saxo Beat brings the perfect atmosphere to any occasion. Whether you're looking for romantic saxophone music for your wedding ceremony or high-energy dance tunes for your staff party, Dj Saxo Beat is a perfect choice.
What makes Dj Saxo Beat so special? For one, it creates a fantastic live act, with a great light show and a saxophone as a live instrument. But that's not all – Dj Saxo Beat also incorporates professional DJs, who know how to get the party started with exciting rhythms and the latest hits from the top 40.
If you're looking for a full evening program, Dj Saxo Beat can also perform with a swing formation, led by the talented Miss. Von Own. With a varied repertoire and energetic stage presence, Miss. Von Own and Dj Saxo Beat will make your party or event truly unforgettable. And with a professional sound and light installation, complete with a DJ booth, you can be sure that your guests will be talking about your event for months to come. So why wait? Book Dj Saxo Beat today and experience the ultimate musical fusion at your event with the unbeatable combination of live saxophone and DJ power.