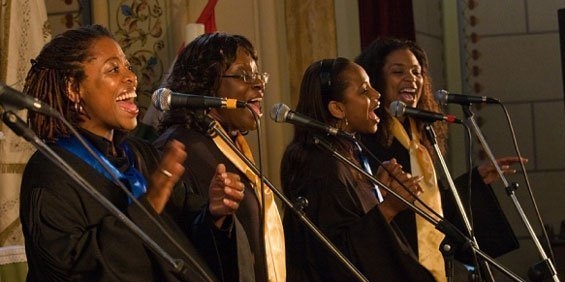 4 persons: 3 vocals, keys

1 x 60 min

Ceremony music
This group originated in 2005 and has already had many performances and tours in Hungary to their name.
They like to let the music and theater industry blow a breath of fresh air by playing a mix of pop and gospel songs, flirting with other styles unabashedly. This under the inspiring musical direction of the talented pianist / conductor Elvis Ediagbonya.
The surprising classical start of "Joyful joyful" followed by a rhythmic and uplifting sequel brings many spectators on the wrong track. The barbershop feel of "Operator" takes you back to the 1950s.
Despite the different styles, the basic gospel and pop remain. Classics such as "Happy Day" will therefore not be missing at a Breeze performance. This makes Breeze very suitable for weddings / ceremonies, openings, corporate parties / presentations and lunches.
Breeze has an extensive Christmas repertoire for December. It is also possible to hire Breeze for supporting soloists.
Gospel
All That We Can Bare
Ave Maria (Beyonce)
Brighter Day
Hallelujah Chorus
Hallelujah Praise
Happy Day
Hosanna
I'll Take You There
Imagine Me
Joyful, Joyful
My Desire
Now Behold the Lamb
On Holy Ground
Operator
People Get Ready
Shackles
Shout
Stand
Stomp
Surely
To My Father's House
Total Praise
Wade In the Water
What A Friend We have in Jesus
Yes We Can, Can
Your Love Keeps On Lifting Me
Christmas
Feliz Navidad
First Noel
God Rest Ye
Hark the Herald Angels
Have Yourself A Merry Little Christmas
Jingle Bells
Silent Night