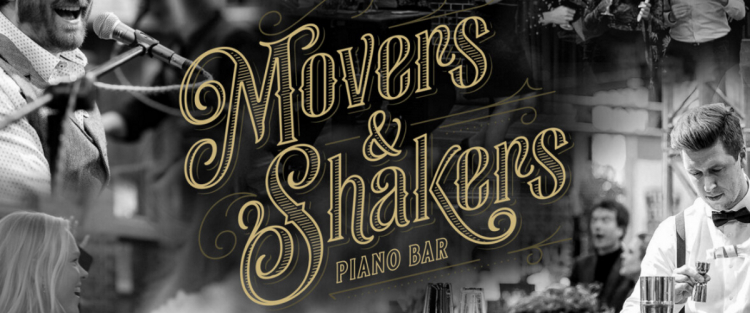 2 persons: singer/pianist and Shaker/percussionist

3x 45 min

They play on request
Movers & Shakers is an original vintage piano bar concept in which the virtuoso pianist James plays all your requests at his piano, which at the same time serves as a cocktail bar. James has earned peculiar expertise in the entertainment business and knows exactly what your event needs. From tastefully swinging crooners to the latest hits in a vintage jacket; he plays them all. Moreover, the volume is never too loud, but just enough to lift the atmosphere to a higher level during a drink.
If desired, James will bring additional colleagues. The percussionist brings extra swing and rhythm, and it is also possible to book a female singer. If you want it completely swinging, the saxophonist will come along! Because these musicians have been performing together for many years, the experience is splashing. The fun that Movers & Shakers radiate from each other is striking. For an online bingo, the duo is also perfect with a stage piano and drums.
The authentic piano houses the latest digital gadgets, making the sound very contemporary. The rear of the piano has been converted into a stylish cocktail bar, from which cocktails can be served during the performance. Drinks and bartender are not included as standard, but that can of course still be arranged for you.