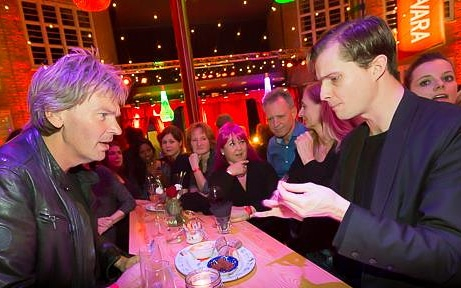 1 person: magician

2 hours

Interactive Entertainment
Magician Andrew's talents were first brought to the attention of millions of television viewers back in 2010 – with a guest appearance on Saturday night prime time show 'Popstars'. Subsequently, he won the prestigious TV show 'The New Uri Geller'. He quickly accumulated more International tv success wth guest appearances on 'The Grand Show' in Turkey & CCTV 'The International Arts Festival' on Chinese Central television. Andrew was also one of the headline acts at the Glastonbury Festival & represented England in The World Championships of Stage Magic. He achieved 'Highest Ranked Show' by public opinion poll for his 150 spectacular illusion shows (equipped with dancers and glamorous assistants) at a top Dutch theme park, Duinrell season 2017-2018 & performed for The King and Queen of Holland in 2019!
Andrew is undoubtedly the European Champion of Magic. In September 2007, he entered his first magic competition…The International Brotherhood of Magicians Annual Stage Competition. He won his category for Manipulation receiving "The Dittia Shield" & achieved another award called "The Theo Speaker Cup" in the overall stage contest.
Andrew is an inventor and lecturer of magic. His most successful products; The Box of Fear & Ghost Touch are sold by magic shops worldwide!
Andrew has been performing stage and close-up magic for over twenty years. He joined the British Junior Magic Society at 6 years old, successfully passing the audition two years premature – the rule book states that members need to be at least 8 years. From here on at age thirteen, he was accepted into the Wolverhampton Magic Circle and later was welcomed into the International Brotherhood of Magicians. A graduate in psychology in 2002, he went straight on to working as a full-time professional magician in Amsterdam and works across Europe frequently.
For several years now he has worked with Dutch magician/choreographer Ger Copper; former World Champion and coach for Hans Klok. Andrew even hosted his show for one year at the club-theater 'Sugar Factory', resident magician at Holland Casino Rotterdam for 7 years, has worked regularly at 'The Comedy Theater' & 'Boom Chicago Comedy Club' & has performed for millions of viewers on various tv channels, mainly SBS 6. Andrew has performed magic for a variety of VIP's including Ronnie Wood (The Rolling Stones), All Saints, The Dutch consulate, and on numerous occasions for the British Ambassador and embassy patrons. His list of corporate clients is extensive, to say the least.
No matter the location or event, Andrew adapts visual illusions, comedy, and magic to captivate his audiences – these visual effects work well if he is performing in a loud environment or if his audiences' native language is not English. Stand-up Comedy Show, Stage Illusion Show, Table Magic, and Kids Shows… are the various acts available custom fit to suit any event, anywhere.