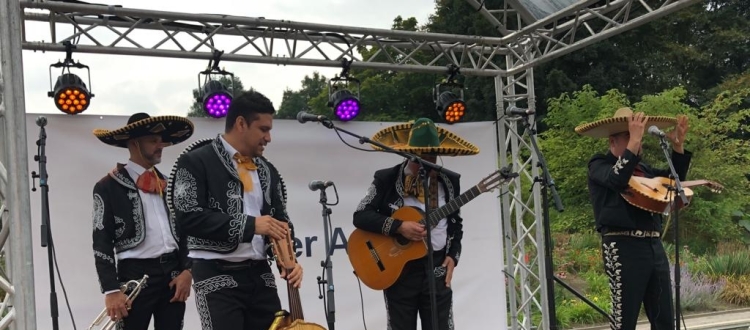 2 -6 people

3 x 45 minutes

Fantastic Mariachi music from Mexico
Experience the vibrant and enchanting sounds of Mexico with our sensational Mariachi band! Immerse yourself in the essence of a sunny Mexican atmosphere and let us elevate your special event to unforgettable heights. Whether it's your dream wedding, a lively company party, a joyous birthday celebration, or an intimate dinner, our talented musicians are here to bring the Mariachi genre to life and create a truly magical experience for you and your guests.
Prepare to be captivated by a mesmerizing medley of salsa, cumbia, cha cha cha, samba, charanga, bolero, merengue, and bossa nova music, expertly performed by our skilled artists. As each song flows seamlessly into the next, you'll feel the irresistible rhythms coursing through your veins, transporting you to the heart of Mexico. The soul-stirring melodies and toe-tapping beats will create an atmosphere that lingers in your memory long after the last note fades away.
We understand that every celebration is unique, which is why we take the time to tailor our performance to your specific desires. From the moment you book, we'll work closely with you to ensure we exceed your expectations and deliver an unforgettable musical journey perfectly suited to your occasion. Whether you envision a romantic serenade, a joyful fiesta, or an energetic dance party, our repertoire is customizable to match your preferences, creating a personalized experience that reflects your taste and style.
Don't miss out on the opportunity to create a truly magical ambiance at your upcoming event. Book our exceptional Mariachi band now and let us infuse your special occasion with the intoxicating spirit of Mexico. Prepare to be swept away by the infectious energy, impeccable musicianship, and heartfelt performances that will leave you and your guests smiling, dancing, and begging for more. Contact us today to discuss your vision, and let us craft an unforgettable experience that will be cherished for years to come. Viva Mexico!