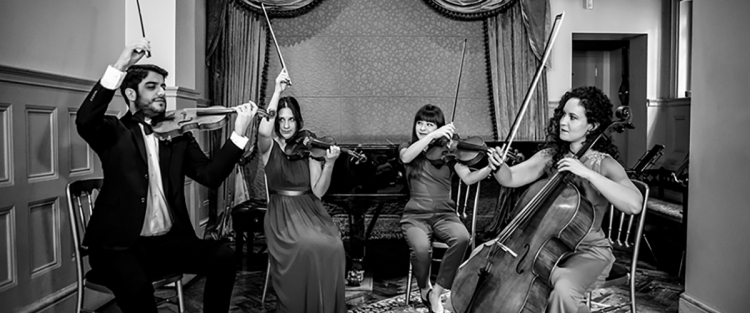 1 x violinist, celloist & pianist

1 hour

Stylish classic music for your event
Are you wanting to hire a professional musician to play at your special event to add elegance and entertainment? Maybe a sophisticated, young, and lively string quartet for your wedding? In the UK, the Netherlands, Belgium, France, Italy, and the United Arab Emirates, London Strings is available to hire for any occasion, including weddings, business gatherings, cocktail and birthday parties, marriage proposals, concerts, and professional recordings. You can be sure that the live music and ambiance London Strings will contribute to your event will be superb. They are available to rent as a violin & cello duo, string trio, string quartet, an ensemble with piano, or as a solo violinist or cellist.
You can look at their repertoire list to see what songs they can perform, including Bollywood, mainstream, folk, and classical music. Better still, they are happy to meet any unusual requests that are not on the list without charging you anything. The band's musicians have given numerous solo and chamber music performances, as well as performances with orchestras like the London Symphony Orchestra, English National Opera, Royal Philharmonic Orchestra, and London Philharmonic Orchestra, in addition to performances at venues like the Royal Albert Hall, Barbican Center, Southbank Center, and Dubai Expo 2020. Our musicians have performed across the globe, including in Singapore, Australia, New Zealand, France, Italy, Germany, Estonia, the Netherlands, and Austria.
A violin and cello duo is the most popular option with clients. Musically versatile, the duo can play just about anything, from Bach to Bridgerton. Compared to a quartet, the duo is more affordable but you will also not be compromising quality in any way! As a duo, we play both acoustic and modern electric instruments, and we have a set list with backing tracks for some of our most popular songs. For years, the string quartet has been the go-to choice for weddings and events, emulating the beautiful sound and stunning visuals of a miniature string orchestra. A quartet is perfect for large events, and your guests will love it!
A string trio, which consists of two violins and a cello, is quite similar to a quartet. Additionally, you have the choice of hiring a piano trio (violin, cello, and piano). For a private occasion, such as a marriage proposal or an intimate dinner, a single violin or cello is a lovely option. You have the option of hiring a violin with or without accompanying recordings, and an option to have electric violin and cello.
CLASSICAL
Air in F
Albinoni – Adagio
Arioso
Bach – Air
Beethoven – Ode to Joy
Bellini- Casta Diva – Cavatina from the opera 'Norma'
Boccherini -Minuet
Bollywood Repertoire
Bourree in F
Brahms -Lullaby
Brandenburg Concerto no. 3
Charpentier – Te Deum
Clarke- Trumpet Tune
Dance Macabre
Dance of the Sugar Plum Fairy
Debussy -Claire de Lune
Delibes- Flower Duet
Divertimenti for String Quartet
Dvorak – Humoresque
Eine Kleine Nachtmusik
Elgar -Salut d'Amour
Faure – Apres un Reve
Franck – Panis Angelicus
Fur Elise
Gounod – Ave Maria
Granados – Spanish Dance no. 5
Grieg – In the Hall of the Mountain King
Handel – Air in D
Hornpipe from Water Music
Hornpipe in D
Hornpipe in F
Hungarian Dances 1 and 5
Iosif Ivanovici – Waves of Danube
Jesu Joy of Man's Desiring
Joplin -The Entertainer
La Paix
La Rejouissance
Libertango
Mascagni – Intermezzo from Cavalleria Rusticana
Massenet – Meditation from Thais
Mendelssohn – Wedding March
Minuet in D
Minuet in D Minor
Minuet in G Minor
Minuets
Monti – Csardas
Mouret – Rondeau
Mozart – Ave Verum Corpus
Musette
Nimrod Variations
Nutcracker for String Quartet
Oblivion
Offenbach – Barcarolle
Pachelbel – Canon
Pavane
Piazzolla – Ausencias
Puccini – O Mio Babbino Caro
Queen of Sheba
Rachmaninoff – Vocalise
Rags
Rejouissance
Rondo Alla Turca
Saint Saens – The Swan
Schubert – Ave Maria
Schumann – Traumerei
Selection of Klezmer Songs
Selection of Tangos
Selection of Traditional Turkish Music
Serenade (Standchen)
Sheep May Safely Graze
Shostakovich – Waltz no. 2
Slavonic Dance
Strauss – Tik-Tak (from Fledermaus)
Symphony No. 7 Finale theme
Tchaikovsky – Waltz of the Flowers
The Girl With the Flaxen Hair
Theme from Symphony No. 1
Traditional – Greensleeves
Trumpet Voluntary
Vivaldi – The Four Seasons
Wachet Auf
Wagner – Wedding March
Waltzes Op. 39
Water Music
Wild Rider
MOVIE SOUNDTRACKS
Amelie Poulain – La Valse d'Amelie
Austin Powers – Soul Bossa Nova
Away in a Manger
Beauty and the Beast – A Tale as Old as Time
Bridgerton – Strange, Love is a Choice, Bridgerton Theme
CHRISTMAS MUSIC
Cinema Paradiso – Love Theme
Coventry Carol
Deck The Halls
Ding Dong Merrily on High
Earned It – Fifty Shades of Grey
Fiddler on the Roof – If I Were a Rich Man, Sunrise Sunset
Frozen – Let It Go, Into the Unknown
Game of Thrones
Gladiator – Now We Are Free
God Rest Ye Merry Gentlemen
Good King Wenceslas
Hark! The Herald Angels Sing
Harry Potter – Hedwig's Theme
Have Yourself a Merry Little Christmas
I Saw Three Ships
I'll be home for Christmas
Imperial March
It Came Upon a Midnight Clear
James Bond – Theme Song
Jingle Bells
Joy to the World
Jurassic Park – Main Theme
Les Miserables – Castle on a Cloud – I Dreamed a Dream
Let it Snow! Let it Snow! Let it Snow!
Looney Toones
Men In Black
Midwinter
Mission Impossible – Theme
O Come O Come Emmanuel
O Holy Night
O Little Town of Bethlehem
O' Come All Ye Faithful
On Christmas Night
Once in Royal David's City
Pirates of the Caribbean – Theme
Pretty Woman – Theme
Romeo and Juliet – Love Theme
Rudolph the Red-Nosed Reindeer
Scent of a Woman – Por uno Cabeza
Schindler's List – Theme
Selection from Disney Movies
Silent Night
Sleigh Ride
Star Wars – Cantina Band
Survivor – Eye of The Tiger
Tangled – I See the Light
The Christmas Waltz
The First Noel
The Godfather – Love Theme
The Greatest Showman – A Million Dreams
The Hobbit – Misty Mountains
The Little Drummer Boy
The Mission – Gabriel's Oboe (Nella Fantasia)
The Snowman
Titanic – My Heart Will Go On
Up – Theme, Married Life
We Three Kings
We Wish You a Merry Christmas
West Side Story – America, Maria
West Side Story – Somewhere
Winter Wonderland
POP
A Hard Day's Night
A Sky Full of Stars
ABBA
AC/DC – Thunderstruck
Addicted to You
Adele – Set Fire to the Rain
All of my Love
All Of The Stars
All You Need Is Love
Angie
Avicii – Hey Brother
Ben King  – Stand By Me
Beyonce- Halo
Bidin' My Time
Billie Eilish – Bad Guy
Billie Jean
Blackbird
Blaze of Glory
Bob Sinclar – Love Generation
Bobby McFerrin – Don't Worry, Be Happy
Bohemian Rhapsody
Bon Jovi- Living on a Prayer
Boney M
Britney Spears – Toxic
Bruno Mars – Just the Way You Are
Bryan Adams – Summer of 69
Buena Vista Social Club – Chan Chan
Can You Feel the Love Tonight
Can't Help Falling in Love with You
Charlos Gardel- El Dia que me Quieras
Christina Perri – A thousand years
Clean Bandit- Rockabye
Clocks
Coldplay  -Viva la Vida
Cole Porter – Ev'ry Time We Say Goodbye
Come Fly With Me
Connie Francis – Siboney
Consuelo Velázquez- Besame Mucho
Curtis Mayfield- Move on up
Cyndi Lauper- Time After Time
Daft Punk- Get Lucky
Dancing Queen
David Guetta- Dangerous
Dean Martin- Sway
Des'ree- Kissing You
Don't Stop Me Now
Duke Ellington – Concerto for Cootie
Ed Sheeran- Shape of You
Eduardo di Capua- O Sole Mio
Eleanor Rigby
Elton John- Candle in the Wind
Elvis Costello- She
Elvis Presley – Are You Lonesome Tonight
Eric Clapton – Falling Leaves
Europe – Final Countdown
Everything
Fade to Black
Faith
Feeling Good
Fly Me To The Moon
Frank Sinatra – My Way
Future  – Mask Off
George Gershwin- Summertime
George Michael – Careless Whisper
Get Back
Glenn Miller – In the Mood
Gnarls Barkley- Crazy
Good Day Sunshine
Gotye – Somebody that I used to know
Grover Washington- Just the Two of Us
Haddaway – What is Love
Hello
Henry Mancini- Moon river
Here Comes the Sun
Hey Jude
Human Nature
I Got Rhythm
I want to Hold Your Hand
In My Life
Israel Kamakawiwo'ole – Somewhere Over the Rainbow
It's My Life
Jamiroquai – Love Foolosophy
Jason Mraz – I'm yours
John Legend – All of Me
John Lennon – Imagine
Johnny Cash – You Are My Sunshine
Josh Groban – You Raise Me Up
Justin Timberlake- Can't Stop the Feeling
Karma police
Katy Perry  – Birthday
Killer Queen
Lady Gaga – Venus
Lady Madonna
Lay All Your Love On Me
Led Zeppelin – Stairway to Heaven
Leonard Cohen – Hallelujah
Let It Be
Louis Armstrong – What a Wonderful World
Love and Marriage
Love Me Do
Love Me Tender
Luis Fonsi – Despacito
Mabel Wayne – In a Little Spanish Town
Make You Feel My Love
Mamma Mia
Maroon 5 – Girls Like You
Marry You
Maybe I Didn't Love You
Metallica – Nothing Else Matters
Michael Buble – Feeling Good
Michael Jackson – Thriller
Michelle
Money, Money, Money
Muse – Starlight
Nancy Mulligan
Natalie Cole – This Will Be (An Everlasting Love)
No Surprises
One Republic – Secrets
Paradise
Perfect
Permission to Dance
Pharrell Williams – Happy
Phil Collins – A Groovy Kind of Love
Photograph
Pink – Just Give Me a Reason
Pink Floyd – Wish You Were Here
Pink Panther
Plain White T's – Hey There Delilah
Queen – Another One Bites the Dust
Radiohead – Creep
Rasputin
Rather Be
Rihanna – What Now
Robin Thicke – Blurred Lines
Rolling in the Deep
Rolling Stones – Paint It Black
Sade – Smooth Operator
Santana – Smooth
Satin Doll
Senorita
Shake it Off
Shawn Mendes – In My Blood
Sia -Chandelier
Signed, Sealed, Delivered (I'm Yours)
Sing
Singing in the Rain
Sisko – Thong Song
Skyfall
Smooth Criminal
Solo
Somebody to Love
Someone Like You
Stevie Wonder -I Just Called to Say I Love You
Sting – Fields of Gold
Strangers in the Night
Taio Cruz – Telling the World
Taylor Swift – Love Story
The A-Team
The Beatles- Yesterday
The Eagles – Hotel California
The Rembrandts – I'll Be There for You
The Righteous Brothers – Unchained Melody
The Scientist
The Turtles – So Happy Together
The Verve – Bittersweet Symphony
The Way You Look Tonight
The Winner Takes it All
Thinking Out Loud
This Love
Titanium
Tones and I – Dance Monkey
Uptown Funk
Village People – Y. M. C. A.
Waiting For Love
Wake Me Up
Walk the Moon – Shut up and Dance
Wanted Dead or Alive
We Will Rock You
When We Dance – Fragile
Whitney Houston – I Believe in You and Me
Wildest Dreams
Without You
Wonderful Tonight
World Without Love
Yellow
Yellow Submarine
You are the Sunshine of my Life
You Give Love a Bad Name
You're my Best Friend
Your Song