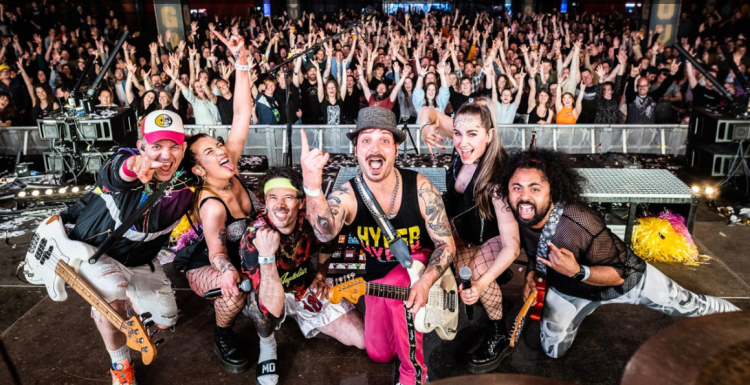 Introducing 'House Of Rock': Unleashing the Unforgettable Sound of '90s Guilty Pleasures
Prepare to be captivated by the electrifying fusion of rock and dance as the esteemed members of 'House Of Rock' come together. Drawing inspiration from a groundbreaking concept—imagining Nirvana performing a cover of DJ Paul Elstak—they have crafted an extraordinary musical journey, unlike anything you've ever witnessed before.
These accomplished musicians, well-versed in the rock circuit, are determined to revive the cherished '90s guilty pleasures in an unprecedented manner. Brace yourself as timeless house and dance classics, which have effortlessly withstood the test of time, soar through the air in rapid-fire medleys. The mastery of keyboards and turntables gracefully make way for pulsating guitars and an explosive rhythm section, injecting an enthralling dose of iconic '90s rock riffs into the mix.
Amplifying the experience, the stage is set ablaze by two captivating and talented female vocalists who lead the audience on an exhilarating journey of recognition and euphoria from the very first note to the grand finale. In the past year alone, 'House Of Rock' has ignited the stages of renowned festivals in the Netherlands, including Paaspop, Zwarte Cross, and many other remarkable events.
Prepare to be swept away by the unforgettable sounds of 'House Of Rock' as they transport you to a realm where rock and dance converge in perfect harmony. Join them on this exhilarating musical adventure that will leave you craving more, as they redefine the boundaries of live entertainment.
1. Alive – Pearl Jam
2. Aquarius – Party Animals
3. Be My Lover – La Bouche
4. Because The Night – Cascada
5. Blue (Da Ba Dee) – Eiffel 65
6. Bro Hymn – DJ Paul Elstak/Pennywise
7. Captain Jack – Captain Jack
8. Children Of The Night – Nakatomi
9. Dreams – 2 Brothers On The 4th Floor
10.Everybody Dance Now – C&C Music Factory
11. Flying High – Captain Hollywood Project
12. Forever Young – Alphaville
13. Freed From Desire – Gala
14. Get Ready – 2 Unlimited
15. Hava Nagila – Party Animals
16. Hardcore Vibes – Dune
17. Have You Ever Been Mellow – Party Animals
18. Horny – Mousse T.
19. I Like To Move It – Reel 2 Real
20. I'm A Raver – Lipstick
21. It's My Life – Dr. Alban
22. Killing In The Name – Rage Against The Machine
22. Luv You More – DJ Paul Elstak
23. Maria (I Like It Loud) – Scooter
24. Mr. Vain – Culture Beat
25. Never Alone – 2 Brothers On The 4th Floor
26. No Limit – 2 Unlimited
27. Push It – Salt 'n' Pepa
28. Rainbow In The Sky – DJ Paul Elstak
29. Rhythm Is A Dancer – SNAP
30. Rhythm Of The Night – Corona
31. Sex On The Beach – T-Spoon
32. Sexbomb – Tom Jones ft. Mousse T.
33. Smells Like Teen Spirit – Nirvana
34. Song 2 – Blur
35. Twilight Zone – 2 Unlimited
36. Walk On Water – Milk Inc.
37. What Is Love – Haddaway
38. Wonderful Days – Charly Lownoise & Mental Theo