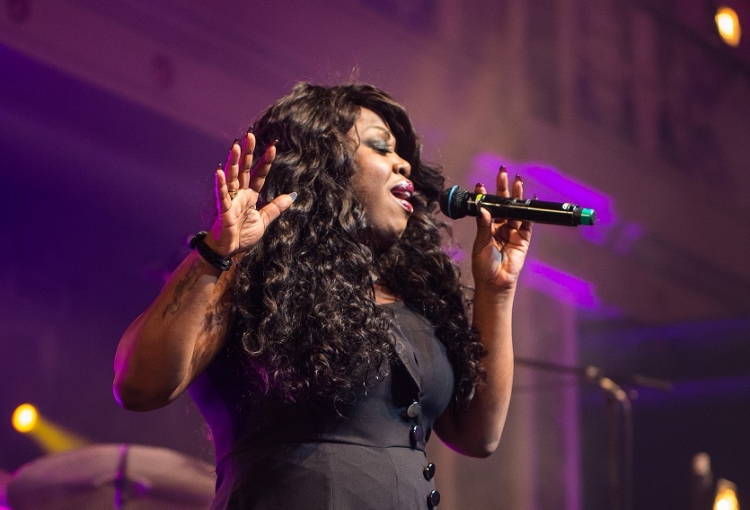 1 person: Singer

1 x 30 min

Soul singer for corporate events
Berget Lewis is a talent that has become an indispensable part of the music world. She has been proclaimed 'best singer in the Netherlands'. As one of the 5 leading ladies of the group 'Ladies of Soul' she demonstrates the power of her voice. She has performed with the most famous artists on the biggest stages and enchanted her audience during her highly successful theater tours. She shined in her role of Mary in 'The Passion' and is widely praised as a vocal phenomenon with a wonderfully successful career.
Her music is a combination of emotional ballads, steaming rock and soul stompers, and everything in between. Her singing flair brings out a rousing voice that will leave you on your feet and your hands in the air waving and singing along! Her very personal, candid, honest,  audience interaction will leave you mesmerized.
Like many other great singers, Berget Lewis also found her voice in the church choir, where she sang gospel at a young age. With a great start, she toured America with a gospel choir at the age of fifteen. In the late 1990s, she founded her group Berget Lewis Gospel Train, with which she caused a lot of excitement all over the country.
Her career really took off when she joined Total Touch, after which her big break was not long coming. Since then she has evolved in such a way that she even received all the votes in the final of the TV show The best singers of the Netherlands. It is not surprising that she is widely embraced internationally as a special guest by stars such as Van Morrison, Dave Stewart, and Maceo Parker, and simultaneously boasts a successful solo career with her own theater shows.
Lewis wrote the songs for her self-titled second album, together with a team of internationally renowned musicians. Berget spent the first four months of 2013 in London with producer Andreas Olsson (Jason Mraz, Mary J. Blige, James Morrison, among others) and the musician collective The Suppliers. This led to an album with twelve exciting songs, in which she shares her feelings about the deep valleys and high peaks that have characterized her life in recent years.