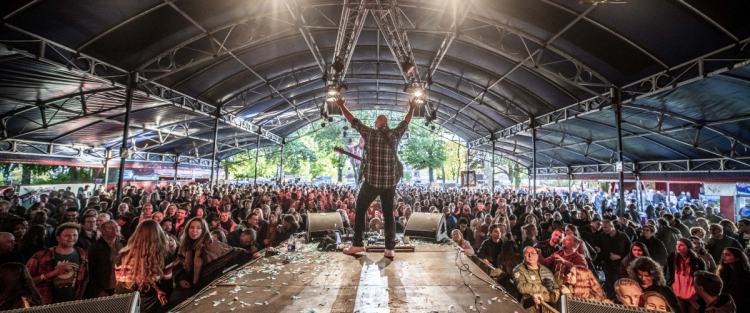 Jonny Smokes: de one-man-band uit Amerika. Hij neemt je mee naar Seattle. De stad van de rock. De stad van bands als Nirvana, Foo Fighters, Pearl Jam, Soundgarden, Jimi Hendrix en Alice in Chains. Jonny Smokes brengt de muziek uit Seattle met volle overtuiging op een manier zoals alleen hij dat kan. Met zijn loopskills, zijn energie en gepassioneerde stem weet hij iedereen te raken.
Jonny Smokes verruilde Seattle voor Den Haag. Hij volgde zijn hart en treedt nu op door heel Nederland. Hij speelt op grote festivals als Festyland, 7th Sunday, Iconic, Stage Valley en de Vierdaagse feesten, maar ook op vele bruiloften, bedrijfsfeesten en allerlei evenementen. Jonny Smokes speelt ruim 300 covers. Van "Alive" tot "Everlong", van "Black Hole Sun" tot "Smells Like Teen Spirit" en vele andere nummers. Seattle rock, aangevuld met vele rock klassiekers uit de mega top 2000.
3 Doors Down – Kryptonite
4 Non Blondes – Whats Up
AC/DC – Shook Me All Night Long
Alanis Morissette – You Oughta Know
Alice In Chains – No Excuses
Alice In Chains – Nutshell
Alice In Chains – Would
America – A Horse With No Name
Anouk – Nobody's Wife
Bad Company – Feel Like Makin' Love
Beastie Boys – Fight For Your Right to Party
Beatles – Here Comes The Sun
Beck – Loser
Ben Harper – Burn One Down
Ben Harper – Steal My Kisses
Billy Joel – Piano Man
Black Crows – Hard To Handle
Black Crows – She Talks To Angel
Bloodhound Gang – Bad Touch
Blur – Song 2
Bob Marley – Stir It Up
Bob Marley – Three Little Birds
Bon Jovi – Wanted Dead Or Alive
Bruce Springsteen – I'm On Fire
Bryan Adams – Summer Of 69
Buck Cherry – Crazy Bitch
Buffalo Springfield – For What Its Worth
CCR – Bad Moon Rising
Cheap Trick – I Want You To Want Me
Coldplay – Yellow
Counting Crows – Mr. Jones
Daft Punk – Get Lucky
David Bowie – Let's Dance
David Bowie – Space Oddity
Death Cab For Cutie – I Will Follow You Into The Dark
Def Leppard – Pour Some Sugar On Me
Doors – Roadhouse Blues
Dr. Dre & Eminem – Forgot About Dre
Eagles – Hotel California
Eagles – Lyin' Eyes
Eagles – Take It Easy
Eminem – Lose Yourself
Fleetwood Mac – Dreams
Foo Fighters – Everlong
Foo Fighters – Learn To Fly
Foster The People – Pumped Up Kicks
George Ezra – Budapest
George Michael – Careless Whisper
George Michael – Faith
Goo Goo Dolls – Name
Greenday – Time Of Your Life
House Of Pain – Jump Around
Jack Johnson – Angel
Jack Johnson – Banana Pancakes
Jack Johnson – Better Together
Jack Johnson – Sitting Waiting Wishing
James Taylor – Fire And Rain
Jane's Addiction – Jane Says
Jason Mraz – I'm Yours
Jimi Hendrix – All Along The Watchtower
Jimi Hendrix – Hey Joe
Jimmy Buffet – Margaritaville
John Denver – Country Roads
John Lennon – Imagine
John Mayer – Daughters
Johnny Cash – Folsom Prison Blues
Johnny Cash – Gods Gonna Cut You Down
Johnny Cash – Ring Of Fire
Johnny Cash / Nine Inch Nails – Hurt
Journey – Don't Stop Believing'
Kansas – Dust In The Wind
Kenny Rogers – The Gambler
Kings Of Leon – Sex On Fire
Linking Park – In The End
Lynrd Skynrd – Sweet Home Alabama
Mad Season – River Of Deceit
Marvin Gaye – Let's Get It On
Metallica – Nothing Else Matters
Michael Jackson – Billie Jean
Modest Mouse – Float On
Neil Diamond – Sweet Caroline
Nine Inch Nails – Closer
Nirvana – Come As You Are
Nirvana – Lithium
Nirvana – Smells Like Teen Spirit
Oasis – Wonderwall
Otis Redding – Sittin On The Dock Of The Bay
Outkast – Hey Ya
Pearl Jam – Black
Pearl Jam – Elderly Woman Behind the Counter
Phil Collins – In The Air Tonight
Pink Floyd – Comfortably Numb
Pink Floyd – Wish You Were Here
Plain White T's – Hey There Delilah
Police – Every Breath You Take
Police – Message In A Bottle
Prince – 1999
Prince – Purple Rain
Radiohead – Creep
Red Hot Chili Peppers – Under The Bridge
Rolling Stones – Honkey Tonk Women
Slayer – Postmortem
Snoop Dogg – Gin And Juice
Snow Patrol – Chasing Cars
Soft Cell – Tainted Love
Soundgarden – Black Hole Sun
Soundgarden – Fell On Black Days
Staind – Its Been Awhile
Steppenwolf – Born To Be Wild
Steve Miller Band – The Joker
Stone Temple Pilots – Interstate Love Song
Stone Temple Pilots – Plush
Sublime – Bad Fish
Sublime – Santeria
Sublime – What I Got
Temple Of The Dog – Hunger Strike
Temple Of The Dog – Say Hello To Heaven
The Cure – Just Like Heaven
The Cure – Love Song
The Outfield – Your Love
Tom Petty – Mary Jane's Last Dance
Tom Petty – Wildflowers
U2 – With Or Without You
Van Morrison – Brown Eyed Girl
White Stripes – Seven Nation Army
White Zombie – More Human Than Human
Wild Cherry – Play that Funky Music
Willie Nelson – On The Road Again
…and many more!!!