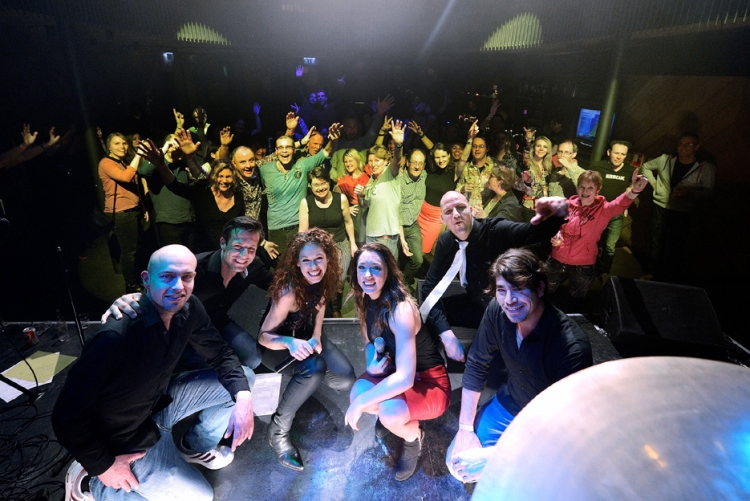 Blend-it is een eigentijdse feestband bestaande uit enthousiaste topmuzikanten (gewerkt met Edsilia Rombley, Ali B, Shirma Rouse, Najib Amhali, Glennis Grace, Trijntje Oosterhuis, Van Velzen, Waylon, Marco Borsato), die muziek maken met een flinke dosis plezier! Dit geeft Blend-it een unieke mix van een dynamische live-show, topkwaliteit en vriendschap. Hierdoor is er een totaalconcept ontstaan, waarbij het publiek continu wordt aangestoken mee te feesten!
Door deze 'blend' heeft Blend-it inmiddels ruim 12 jaar ervaring in het slagen van elk evenement; of dat een bruiloft, bedrijfsfeest, kroegoptreden of studentengala is. Voor elk optreden geldt; we maken er een knallend feest van!
Blend-it speelt disco, pop, rock en soul. Van oude klassiekers uit de jaren '70, '80 en '90, maar ook veel verrassende eigentijdse hits!
Ain't no mountain high enough – Marvin Gaye
Ain't it fun – Paramore
Ain't Nobody – Chaka Khan
Always there – Incognito
Another day – Jamie Lidell
Are you gonna go my way – Lenny Kravitz
Are you gonna be my girl – Jet
Always on the run – Lenny Kravitz
Baby love – Mothers Finest
Bad girls – Donna Summer
Billy Jean – Michael Jackson
Blame it on the boogie – Michael Jackson
Blurred Lines – Robin Thicke / Pharrel Williams
Boogie Wonderland – Earth, Wind & Fire
Can you feel it – The Jacksons / The Temperor
Can't feel my face – The Weeknd
Can't rely On – Paloma Faith
Car wash – Rose Royce
Celebration – Kool & the Gang
Conga – Miami Sound Machine
Could you be loved – Bob Marley
Crazy in love – Beyonce
Dancin' in the street – Martha Reeves
Deja Vu – Beyonce
Disco inferno – The Trammps
Don't stop 'til you get enough – Michael Jackson
Easy Lover – Phil Collins & Philip Bailey
Feel what you want – Kristine W.
Finally – CC Peniston
Fireball – Pitbull
Good God – Anouk
Happy – Pharrel Williams
Hold back the river – James Bay
Hold my hand – Jess Glynne
How deep is your love – Calvin Harris
How will I now – Whitney Houston
I want you back – The Jackson Five
I will survive – Gloria Gaynor
Iedereen is van de Wereld – The Scene
It's what you don't do – Lianne La Havas
Just dance – Lady Gaga
King – Years & Years
Kiss – Prince
Last dance – Donna Summer
Last night a DJ saved my live – Indeep
Lean On – Major Lazer
Let's talk about seks – Salt 'n Pepa
Like I Can – Sam Smith
Locked out of heaven – Bruno Mars
Lola's theme – Shape Shifters
Love me like I do – Ellie Goulding
Love runs out – One Republic
Mercy – Duffy
Mesmerized – Faith Evans
My girl – The Temptations
My guy – Supremes
My sharona – The Knack
Nobody's wife – Anouk
On my mind – Ellie Goulding
Play that funky music – Wild Cherry
Please don't stop the music – Rihanna
Pretty fly for a white guy – Offspring
Pricetag – Jessie
Pride / A Deeper Love – Aretha Franklin / C+C Music Factory
Rain down on me – Kane
Rather be – Clean Bandit
Remember the time – Michael Jackson
Respect – Aretha Franklin
Rock With You – Michael Jackson
Rock your body – Justin Timberlake
Rumor has it – Adele
Shake your body – The Jacksons
Show me love – Robin S.
Shut Up & Dance – Walk The Moon
Single ladies – Beyonce
Sista's are doing it for them selves – Aretha Franklin / Annie Lennox
Super freak – Rick James, MC Hammer
Superstitious – Stevie Wonder
Titanium – Sia
Tell Me Bout It – Joss Stone
Tell me something good – Chaka Khan
Think – Aretha Franklin
Thinking out loud – Ed Sheeran
Trouble with my baby – Paloma Faith
Typical man – Tina Turner
Uptown Funk – Mark Ronson / Bruno Mars
Valerie – Amy Winehouse
Waiting for tonight – Jennifer Lopez
Wake me up before you go-go – Wham
Want To Want Me – jason derulo
War – Kensington
We are family – Sister Sledge
We found love – Calvin Harris
Whats Love Gotta To With It – Tina Turner
Who do you think you are – The Spice Girls
You might need somebody – Shola Ama
You're the one that I want – Grease