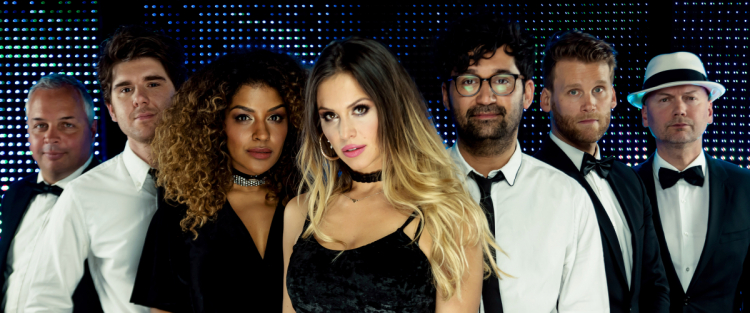 Agogo is DE sprankelende coverband van dit moment, die vol energie, passie en enthousiasme een feeststemming creeert om op te dansen. Gewapend met een zeer breed repertoire vol danceclassics en de meest actuele partyhits spelen zij 3 energieke sets gevuld met gave medleys en coole danspasjes. Hierbij is het muzikale niveau indrukwekkend, het tempo overdonderend en de publieksparticipatie hoog. Agogo zorgt er zo voor dat geen dansvloer ongevuld blijft en geen feest onbesproken.
Agogo speelt standaard met twee superzangeressen, een 'heartdriven' gitarist, een 'funky' toetsenist, een absoluut 'groovende' bassist, een megastrakke drummer en niet te vergeten met een saxofonist van wereldformaat! Scheurende saxsolo's, coole blaasriffs en veel Sax A GO GO…. Energie Extra, Party guaranteed!
Agogo wordt in haar show versterkt door een geweldig geluidsbedrijf, die zorgt dat de band in al haar muzikale facetten volledig tot haar recht komt. Natuurlijk verzorgt dit professionele bedrijf ook een op maat gesneden lichtshow en een eigentijdse ledwall zodat geen showelement aan het dansende oog zal worden onttrokken.
Een TopDJ zorgt er voor dat de sets van Agogo geweldig aan elkaar worden gedraaid: The party never ends! Deze Dj laat de avond rustig en in stijl beginnen, voordat de show een aanvang neemt.
Agogo in combinatie met bijzondere artiesten:
De bandleden van Agogo zijn allemaal professionele musici en spelen vaak met bekende artiesten samen. Om deze reden is het mogelijk om als leuke extra Agogo te laten optreden met een bekende artiest.
Je kunt dan denken aan gastoptredens van bekende Nederlanders zoals Sharon Doorson, Leonie Meijer, Lange Frans, Glennis Grace, Giovanca, Frans Bauer of Rene Froger. Prijs en beschikbaarheid op aanvraag.
24k Magic – Bruno Mars
3X yeah – Chris Brown
Animal – Martin Garrix
Ain't no other man – Christina Aquilera
Ain't nobody – Felix Jaehn
Angels – Robbie Williams
Ain't nobody – Shaka Khan
Beat It – Michael Jackson
Bailar – Deorro ft Elvis Crespo
Be my lover – La Bouche
Blame it on the boogie – Jackson 5
Blurred lines – Robin Thicke feat. Pharrel Williams
Brand new day – Wizzard of Ozz
California Gurls – Katie Perry
Can't get you out of my head – Kylie Minoque
Can't stop the feeling – Justin Timberlake
Carwash – Rose Royce
Celebration – Kool and the Gang
Cheap trills – Sia
Cheerleader – Omi
Conga – Gloria Estefan and the Miami soundmachine
Crying at the discotheque – Alcazar
Dance Across the floor – Jimmy Bo Horne
Don't stop me now – Queen
Disco Inferno – Tina Turner
Don't stop movin – Outhere Brother
Ease on down the road – wizard of Ozz
Easy Lover – Phil Collins
Evacuate the dancefloor – Cascada
Everybody Dance now – Bob Sinclair
Feel What you wanna feel – Kristine W
Fireball – Pitbull
Freed from desire – Gala
Fresh – Kool and the Gang
Get Lucky – Daft Punk
This girl – the Kungs ft. Cookers on three burners
Happy – Pharell Williams
Horny – Mousse T
Hot hot hot – The Merrymen
Hot 'n Cold – Katy Perry
How deep is your love – Calvin Harris
Insomnia – Faithless
I feel good – James Brown
I like to Move it – Reel to real
I love it – Icona Pop
Intoxicated – Marin Solveig
I'm so excited – Pointer Sisters
I've gotta feeling – Black Eyed Peas
I've got the music in me – Kiki Dee
I will survive – Gloria Gainer
Kiss – Prince
Ladies Night – Kool and the gang/Atomic kitten
Lady – Modjo
Lean on – Major lazer
Le Freak – Chic
Leef – Andre Hazes
Let's get loud – Jennifer Lopez
Light it up – major lazor
Living la vida loca – Ricky Martin
Man Down – Rihanna
Mercy – Duffy
mr Vain – Culture Beat
Moves like Jagger – Maroon 5
Murder on the Dancefloor – Sophie Ellis Bextor
No Diggity – Blackstreet
No Limits – 2 Unlimited
No stress – Laurent Wolf
Proud Mary – Tina Turner
Pump up the Jam – Technotronic
Push it – Salt 'n Pepa
Push up – Freestylers
Put you're hands up for Detroit – Fedde le Grand
Rainbow in the Sky – Paul Elstak
Raining men – Weather Girls
Release me – Agnes
Relight my fire – Dan Hartman
Rhytm is a dancer – Snap
Rockabye – Clean Bandits
Rock around the clock – Bill Hailey
Satisfaction – Benny Benassi
Say my name – Destiny's Child
September – Earth Wind and Fire
Schudden – Def Rhyms
Shake your body down – Michael Jackson
Shape of You – Ed Sheeran
Sex on fire – Kings of Leon
Show me love – Sam Feldt
Step Back – Chocolate Puma
Suavemente – Elvis Crespo
That's the way I like It – K.C. and the Sunshine Band
The girl is mine – 99 souls
Think – Aretha Franklin
This is what you came for – Rihanna
Tsunami – DVBBS and Borgeous
Tik Tok – Kesha
Treasure – Bruno Mars
Tutti Frutti – Little Richard
Twilight Zone – 2 Unlimited
Uptown Funk – Bruno Mars
Valerie – Amy Whinehouse
Waiting for tonight – Jennifer Lopez
Wannabe – Spice Girls
Walking on sunshine – Katarina and the Waves
Watch out fort his – Major Lazer
When love takes over – David Guetta
We are family – Sister Sledge
We found love – Rihanna
Year of summer – Niels Geusebroek
You're the one that I want – Grease