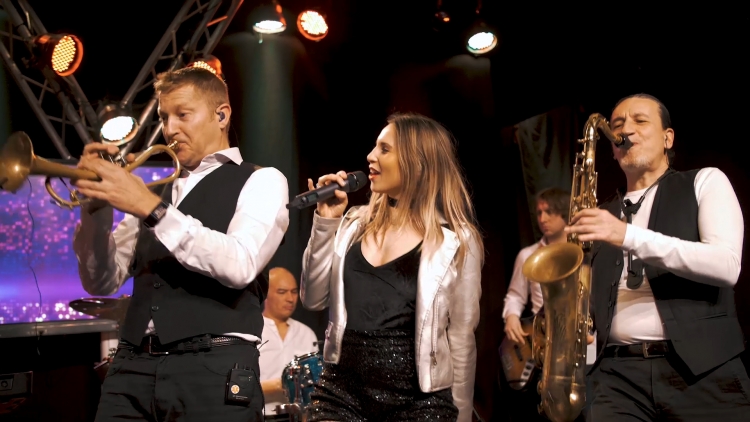 8 pers: Zanger, Zangeres, 4 pers combo, 2 blazers

3 x 45 min

Feest dansbare liedjes
Maximaal genieten met The New Party, dé spetterende live band van Nederland! Meeslepend, verleidelijk en één groot dansfeest, dat kenmerkt een optreden van The New Party. Deze professionele allround coverband heeft een onuitputtelijk repertoire en wisselt hits van nu af met classics van toen.
Swingen op vette dancebeats of zwijmelen op ballads: het publiek is uitzinnig. Vol enthousiasme en plezier spelen de topmuzikanten van The New Party erop los. Reken op een onvergetelijke, avondvullende show met veel interactie.
A Night Like This – Caro Emerald
Addicted to love – Tina Turner
All I Want For Christmas – M. Carey
All Of Me – Jazzstandard
Als de morgen is gekomen – Jan Smit
Another Day – Jamie Lidell
Baby When You're Gone – Bryan Adams & Mel C
Beautiful goodbye – Amanda Marshall
Best Of My Love – Emotions
Brand New Day – Jackson Five
Can't get you out of my – K. Minogue
Can't take my eyes off – Franki Valli
Car Wash – Rose Royce
Celebration – Kool & the Gang
Crazy little thing – Queen
Dance across the floor – Jimmy Bo Horne
Dancing Queen – ABBA
Dingadong – Teach-Inn
Disco inferno – The Trammps
Do The 45 – Ryan Shaw
Don't know why – N. Jones
Don't stop thinking about tomorrow – Fleetwood Mac
Don't It Make My Brown Eyes Blue – Crystal Gayle
Driving Home For Christmas – Chris Ea
Ease on down the road – the Wiz
Een beetje verliefd – Andre Hazes
Eternal flame – the Bangles
Even aan m'n moeder vragen – Bloem
Fame – Irene Cara
Fascination – Alpha Beat
Feel like making love – Bad Company
Fire – Pointer Sisters
Fly Me To The Moon – Jazzstandard
Georgy Porgy – Toto
Get Here – O. Adams
Girl – Anouk
Happiness – Pointer Sisters
Heaven must be missing an angel – Tavarez
Heb je even voor mij – Frans Bauer
Help – Tina Turner
Hey Soul Sister – Train
Hopelessly devoted – Grease
I Can't Make You Love Me – B. Raitt
I Don't Feel Like Dancing – Scissor Sisters
I Feel Good – James Brown
I Wish – Stevie Wonder
I'm so excited – Pointer Sisters
I've got the music in me – Kiki Dee
Ich Bin Wie Du – Marianne Rosenberger
Iedereen is van de wereld – the Scene
If I Ain't Got You – A Keys
Ik kan het niet alleen – de Dijk
Ik meen het – Andre Hazes
I'm Yours – Jason Mraz
Is Dit Alles – Doe Maar
It's Raining Men – Geri Halliwell
Jacksonmedley – the Jacksons
Killing Me Softly – Roberta Flack
Knock on wood – Eddie Floyd
Lady Marmelade – P. Labelle
Last Christmas – Wham
Last Dance – Donna Summers
Le Freak – Chic
Let It Snow – J. Simpson
Let me entertain you – Robbie Williams
Let's Twist, Great Balls Of Fire – Chuck Berry, Jerry Lee Lewis
Like the way I do – M. Etheridge
Listen to the music – Doobie Brothers
Long train running – Doobie Brothers
Lovesong – Sarah Bareilles
Maak me gek – Gerard Joling
Mack the Knife – Jazzstandard
Mama Mia – Abba
Mercy – Duffy
Merry Christmas – Slade
Misty – Jazzstandard
My baby just cares – N. Simone
My Funny Valentine – Jazzstandard
Never can say goodbye – G. Gaynor
Oughta Know – Alanis Morissette
Play that funky music – Wild Cherry
Proud Mary – Tina Turner
Reach Out I'll Be There – Four Tops
Rehab – Amy Winehouse
Relight my fire – D. Hartman
Rudolph – Classic
Santa Claus Is Coming To Town – M. Carey
September – Earth Wind & Fire
Shake your tailfeather – Ray Charles
Shame Shame Shame – Shirley & Co
Signed Sealed Delivered – S. Wonder
Sing it back – Moloko
Smile – Lily Allen
Smoorverliefd – Doe Maar
Smooth operator – Sade
Staying alive – Bee Gees
Streetlife – the Crusaders
Stuck – Caro Emerald
Summer nights – Grease
Superduperlove – Joss Stone
Sweet About Me – Gabrielle Cilmi
That's The Way I Like It – KC & Sunshineband
Think – A. Franklin
Time After Time – C. Lauper
Umbrella – Baseballs
Valerie – Amy Winehouse
Venus – Shocking Blue
Vlieger, de – Andre Hazes
Walking On Sunshine – Katrina & the Waves
Warwick Avenue – Duffy
Waterloo – Abba
We are family – Sister Sledge
Winter Wonderland – Classic
Wonderwoman – Leaf
YMCA – Village People
You Are The Sunshine Of My Life – Stevie Wonder
You Can't Hurry Love – Phil Collins
You to me are everything – the Real Thing
You're the one that I Want – Grease
You've got a friend – Carole King
You're still the one – S. Twain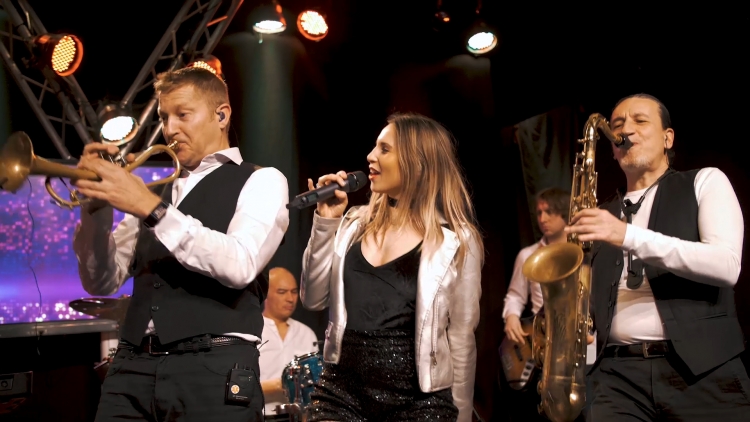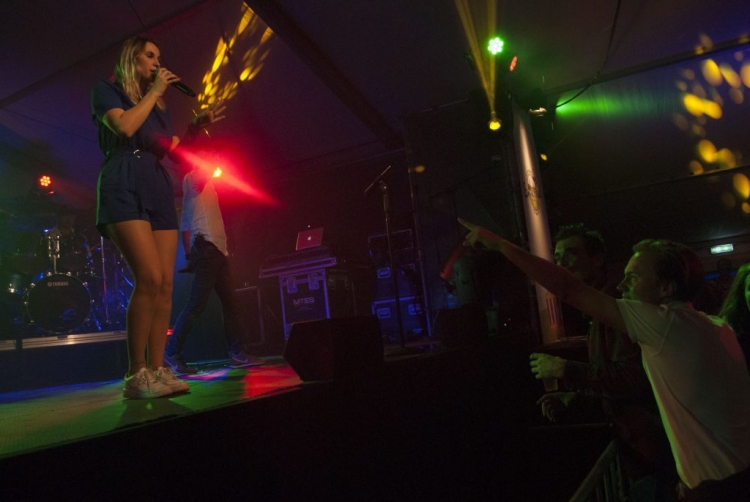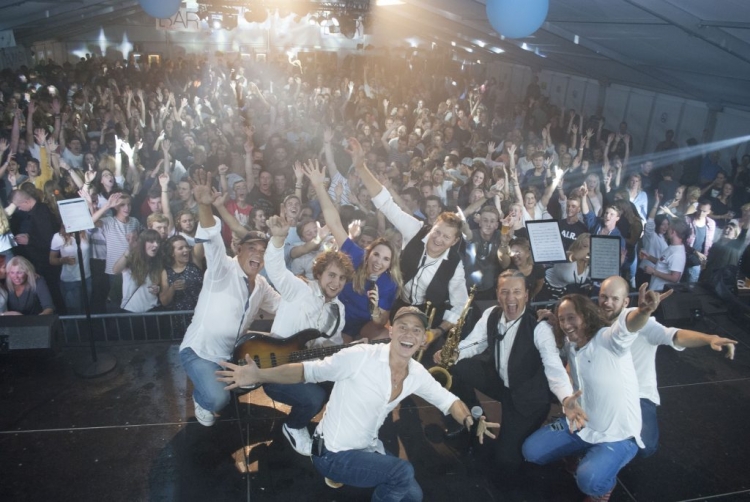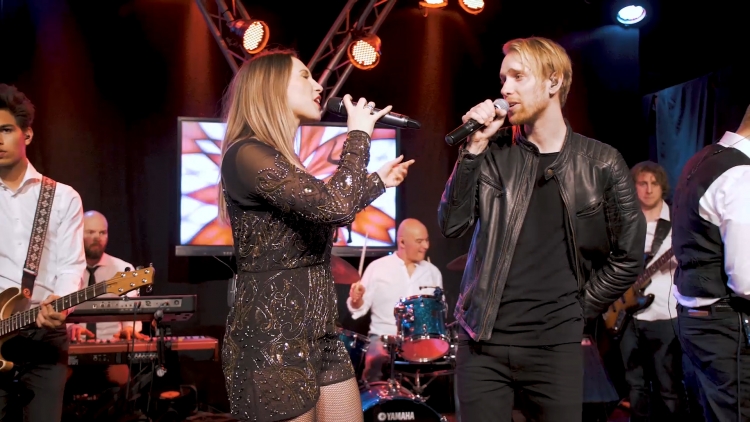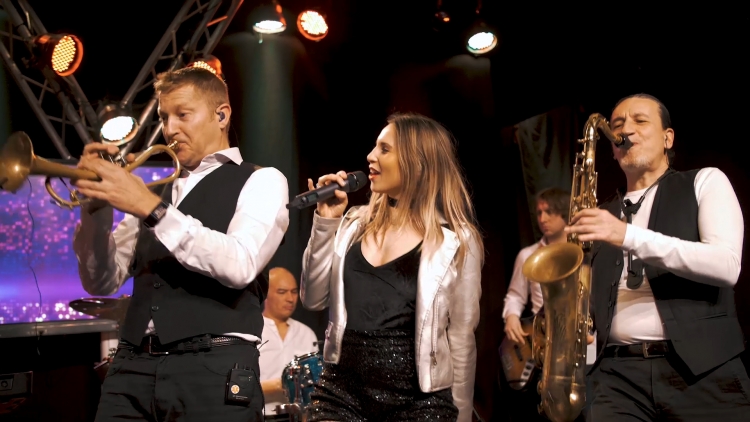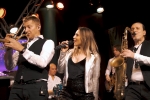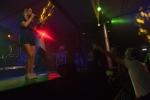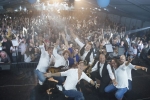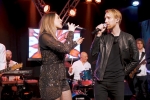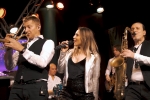 v.a. € 4245
3 x 45 min
8 pers: Zanger, Zangeres, 4 pers combo, 2 blazers