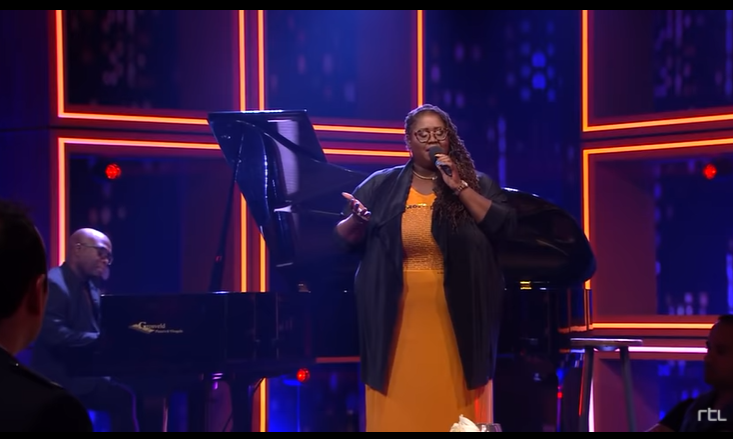 1 Person: Zangeres

1 x 30 min

Allround adembenemende muziek
Shirma Rouse has become an integral part of Dutch music. Having grown up on the island of Sint Eustatius, she came to study in the Netherlands at the age of 19, and she quickly built up a musical career. First mainly as a backing singer: she works with artists as diverse as Chaka Khan, Michael Bolton, Alain Clark, Candy Dulfer, Extince, Wouter Hamel, Glennis Grace, but also sings with Holiday On Ice and the Metropole Orkest. For years she provides background vocals for Anouk, even when she represents the Netherlands in the Eurovision Song Contest in 2013. There, Shirma was named Best Backing Vocalist of the event by The Eurovision Times.
She released her first album Chocolate Coated Dreams independently in 2010, followed by Shirma Sings Aretha in 2012 and Shout It Out Loud in 2014. All three albums are accompanied by a tour and also appear in Japan. When Shirma participates in The Voice Of Holland in 2013, her career gains momentum. She is now a much sought-after guest on various television and radio programmes. But Shirma does much more: she gives singing lessons, establishes the Masterclass Vocal Academy together with Berget Lewis, is a regular guest at the famous jam sessions at Club Dauphine in Amsterdam, is an ambassador for the Dushi Vriend foundation and has her own Shirma's Soul Kitchen. where she spoils 150 guests every month with her cooking and music.
In 2015 she received the prestigious Edison Jazzism Audience Award for her album Shout It Out Loud. That autumn she will go on a tour of Holland Casinos together with pianist Jan Vayne.