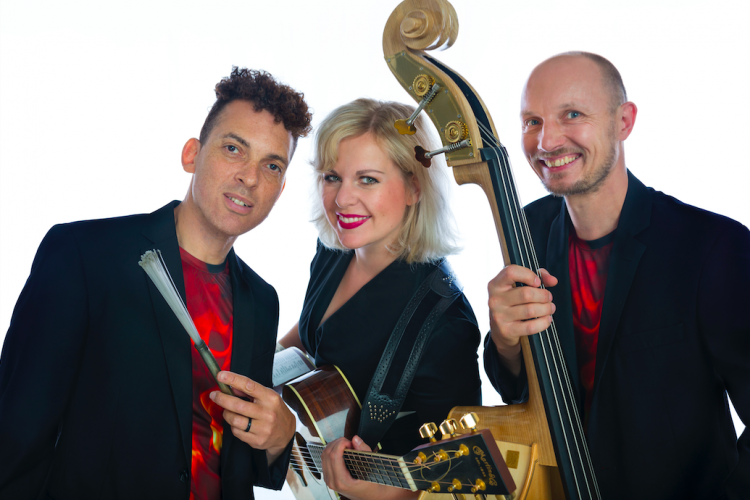 Vuur & Vlam (dutch for Fire and Flames) is a mobile acoustic band with a repertoire of English and Dutch pop music. These musicians get the most out of their acoustic instruments and especially their voices: all 3 members are good singers and with this combination they can perform almost every song.
Vuur & Vlam makes a wonderful atmosphere and brings movement into your party. Enjoy relaxed ballads, sing along nicely, and before you know it you start dancing.
Vuur & Vlam play acoustically and do not need a stage or installation. The trio can be anywhere, move between the guests and play in different places. In this way they can easily switch: a subtle background music if that is sufficient, or direct party music. This way they are approachable for everyone for a request or just sing along.
Ace of Base – All that she wants
Alison Krauss – Baby now that I've found you
Amy McDonald – Mr Rock and Roll
Beats International – Dub be good to me
BZN – Mon Amour
Caro Emerald – A night like this
Cher – Believe
Corry Brokken – La Mama
Crosby – Teach your children
Crowded house – Stills, Nash & Young, Weather with you
Daft Punk – Get lucky
Doe Maar – Tijd genoeg, Sinds een dag of 2
Dolly Parton – Jolene
Doris Day – Que sera, sera
Duffy – Mercy
Earth & Fire – Weekend
Elvis Presley – All shook up
Fairground Attraction – Perfect
Fools Garden – Lemon tree
Frank & Nancy Sinatra – Something stupid
Gabriella Cilmi – Sweet about me
George Ezra – Budapest
George Michael – Faith
Grease – You're the one that I want
Herman van Veen – Hilversum III
Jamie Lidell – Another day
Janis Joplin – Piece of my heart, Me and Bobby McGee
Jason Mraz – I Follow Rivers Trigger finger, I'm yours
Jeff Buckley – Hallelujah
Joe Jackson – Is she really going out with him?
John Denver – Take me home country roads
Julien Clerc – Hélène
Kenny B – Parijs
Kenny Rogers & Dolly Parton – Islands in the stream
LUV – Waldolala
Maywood – Rio
Nancy Sinatra – These boots
Pussycat – Mississipi
Rob de Nijs – Banger hart
Sam Smith – Stay with me
The Drifters – Tide is high Blondie, Under the boardwalk
The Dubliners – Molly Malone
The Mavericks – Dance the night away
UB 40 – Red red wine
Van Morisson – Brown eyed girl