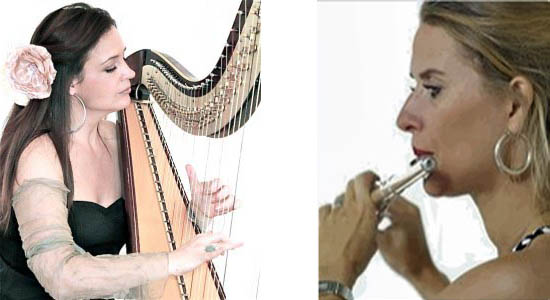 2 persons: harpist and flute

3 hours

Repertoire from classical background music to popmusic
Van Bach tot Bossa is the stylish, high-quality harp flute duo(harpist Lotus and flutist Cecile). These classically trained and charming ladies know perfectly how to create a cozy atmosphere. Cecile plays flute melodies and improvisations, supplemented with light percussion accents, while harpist Rose accompanies her with beautiful harmonies and rhythms. Their versatile repertoire ranges from classical and light classical background music, including Bach, to folk, Latin, jazz, pop ballads, and swinging Bossanova's.
A very nice duo for a full evening of atmospheric music!
Classic
Air – Bach
Andantino – Franck
O,mio Babino Caro – Puccini
Badinerie – Bach
Le Basque – Marais
Berceuse – Faure
Brian Boru's March – James Galway
Bride's March – Wagner
Claire de Lune – Debussy
Le Cygne – Saint-Saens
Deux Preludes Romantique – Tournier
Giga – Handel
Gigue – Corelli
Greensleeves – Anoniem
Gymnopedie – Satie
Fenesta che Lucive Bellini
Flowerduet -Delibes
Les Feuilles Mortes – Kosma
Mattinata – Leoncavallo
Light Classic
The Secret Garden; Dreamcatcher, The Promise, Song from a secret garden.
Spanish Love Song – James Galway
Irlandaise – Claude Bolling
La Fiesta – Mary Ruth Jesse
Moonbeams – Debussy
Klassiek
Meditation – Massenet
Ave Maria – Bach/ Gounod
Minuet – Bizet
Nessun Dorma – Puccini
Pachelbel's Canon – Pachelbel
Piece en forme de habanera – Ravel
Prelude – Franck
Oblivion – Piazzolla
On Wings of Song -Mendelssohn
Siciliano – Bach
Sicilienne – Faure
Sicilienne – Gaubert
Solvejgs Song -Grieg
Sonate g-moll – Bach
Sonate – Boisvallee
Standchen – Schubert
Romanza – Donizetti
Rondo Russo – Jardini
Variaties Rossini – Chopin
When the Stars… – Puccini
Film music
Love Story, Schindlers List, Titanic.
Folk Music
Jewish folk music
Irish folk music
Scottish folk music
South American folk music
Bossa Nova and Jazz
Aqua de Beber Corcovado
Blue Bossa
Fly me to the Moon
Summertime,
Nature Boy
Quiet Nights
Gentle Rain
How Insensitive
All of me
You don't know what love is
Spain
Choro
Berimbau,
Besides this repertoire we play numerous pop-songs with nice arrangements for harp and flute, f.e. Sting, Eric Clapton, Dire Straits, John Legend, Adele etc…