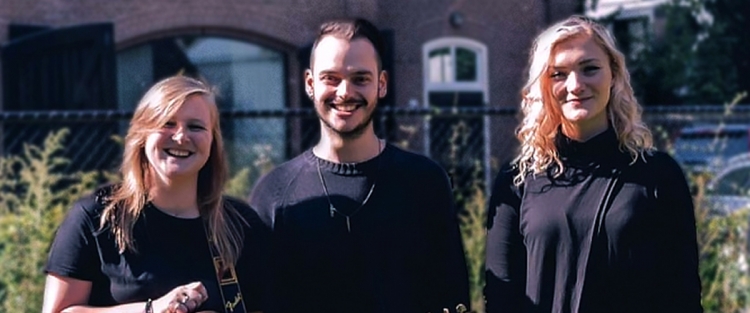 3 persons: singer, guitar player, percussionist

3 x 45 min

Nice acoustic music for cocktail hour or diner!
An acoustic trio that plays hits from the old and new charts. With excellent vocals, guitar, and percussion Trio Acoustic Cuts will give a danceable twist to your event. With a warm voice with refined groovy guitar beats, this trio will grab your attention and won't let go. Top-40 chart and dance hits in an acoustic envelope, that's what they bring in broad terms. In addition, there is always room for other songs that are also just very beautiful and catchy. Expect songs like "Girls Just Wanna Have Fun" from Cindy Lauper, "September" from Earth Wind & Fire, and "Papaoutai" from Stromae.
The trio has performed on many platforms including in bars, on the radio (BNR Nieuwsradio, Den Haag FM, Radio Totaal) and at many events (Vogue Fashion Night Out, Beautygloss Party, Paardcafé for Serious Request, Tilburg Student Festival, Surfana festival), gaining a lot of experience. They have also been able to provide nice supporting acts for Nielson (de Pul, Uden) and Tim Akkerman (Horsecafe) among others.
Acoustic Trio cuts can be booked for various occasions, both in the foreground and in the background; say for lazy Sundays, charming background music, tasteful covers during dinner, or catchy hits during drinks and an intimate wedding ceremony. They can as well be booked as a pacesetter on your birthday, for sing-alongs around the campfire, or as a surprise for someone else. And even better, you can request your favorite songs for an even more personal experience.
Ain't Nobody – Chaka Khan
All About That Bass – Meghan Trainor
Back To Black – Amy Winehouse
Beast Of Burden – Rolling Stones
Be The One – Dua Lipa
Crush – Jennifer Paige
Dancing Queen – ABBA
Dontcha – Pussycat Dolls
Dreams – Fleetwood Mac
Dust In The Wind – Kansas
Everytime We Touch – Cascada
Faith – George Michael
Forever Young – Alphaville
Heart Of Gold – Neil Young
Heaven – Emeli Sande
Hey Ya – Outkast
Hit me Baby – Britney Spears
In The Blood – John Mayer
Issues – Julia Michaels
Is This Love – Bob Marley
Jolene – Dolly Parton
Kiss – Prince
Moves Like Jagger – Maroon 5
No Scrubs – TLC
One Last Time – Ariana Grande
Papaoutai – Stromae
Say A Little Prayer – Aretha Franklin
Send My Love To Your New Lover – Adele
September – EW&F
Shape Of You – Ed Sheeran
Show Me Love – Robyn S.
Son Of A Preacher Man – Dusty Springfield
The Way You Make Me Feel – Michael Jackson
Treasure – Bruno Mars
Une Belle Histoire – Michel Fugain
Uptown Girl – Billy Joel