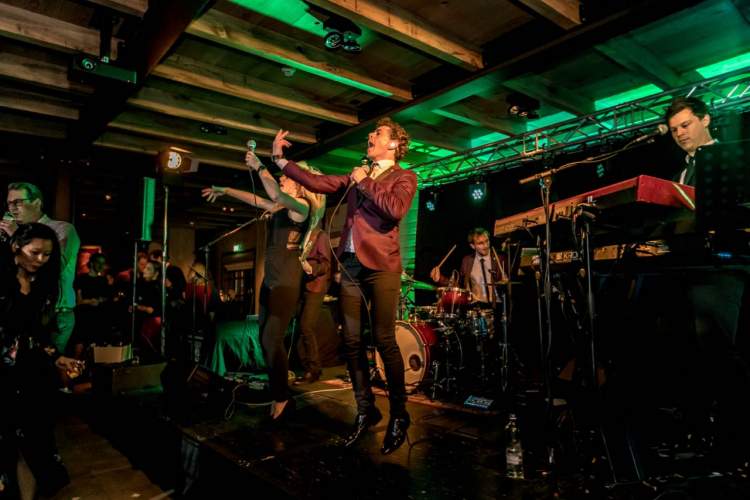 A top show guaranteed! The "Gentlemen" is a modern youngster cover band that will rock your party smartly dressed with a fantastic sound, high energy, and above all endless party. They bring a full evening show of a live band with a DJ but are also expandable with a singer, saxophonist, and/or percussionist.
A good cover band has a good frontman. And that's what checks first on the Gentlemen's checklist. Their lead singer, with his amazing voice and charm, is such a breath of fresh air that will capture everyone's attention. 
Along with the other band members, who all graduated from different conservatories in the Netherlands, he makes sure you will get the right atmosphere at your party. They, therefore, always ensure to have a consultation with you in advance on what your preferences are before the evening of the event.
No band beats "The Gentlemen" when it comes to creating the perfect experience of a moment. And if there is no time, then they create it themselves. Because they are so flexible! With years of experience, they know countless songs and they can therefore anticipate what will spark your party.
The Gentlemen is a flexible band that is the guarantee for your next unforgettable evening!
Adam Lambert – Whataya want from me
Adele – Rolling in the deep
Afrojack – Ten feet tall
Alain Clark – Blow me away
Amy Winehouse – Valerie
Armin van Buuren – This is what is feels like
Avicii – Wake me up
Ben l'Oncle Soul – Seven nation Army
Ben Saunders – If you don't know me by now
Bill Withers – Ain't no sunshine
Black eyed Peas – I gotta feeling
Bløf – Alles is liefde
Bløf – Liefs uit Londen
Bob Marley – Is this love
Bob Marley – No woman no cry
Bruno Mars – 24K
Bruno Mars – Just the way you are
Bruno Mars – Locked out of heaven
Bruno Mars – Treasure
Bruno Mars – Uptown funk
Cee Lo Green – Fuck you
Coldplay – Clocks
Coldplay – Sky full of stars
D'Angelo – Brown Sugar
Daft Punk – Get Lucky
Dan Hartman – Relight my fire
David Guetta ft. Usher – Without You
De Dijk – Ik kan het niet alleen
DNCE – Cake by the ocean
Doe Maar – Sinds 1 dag of 2
Doe Maar – Smoorverliefd
Donny Hathaway – You've got a friend
Doobie Brothers – Long train running
Earth wind & fire – September
Ed Sheeran – A-team
Ed Sheeran – Shape of you
Ed Sheeran – Thinking out loud
Eddie Floyd – Knock on Wood
Elvis Presley – Blue suede shoes
Gavin DeGraw – I don't wanna be
George Ezra – Budapest
James Brown – I feel good
James Morrison – Wonderfull world
James Morrison – You give me something
Jamie Cullum – High & dry
Jamie Lidell – Another day
Jamie Lidell – Multiply
Jason Mraz – I'm yours
John Legend – All of me
John Legend – Ordinary people
John Mayer – Gravity
John Mayer – Waiting on the world to change
Junior Senior – Move your feet
Justin Timberlake – Can't stop the feeling!
Kane – Rain down on me
Kensington – War
Kings of Leon – Sex on fire
Kings of Leon – Use somebody
Kool and the gang – Celebration
Lee Towers – You'll never walk alone
Lenny Kravitz – Are you gonna go my way
Lou Bega – Mambo no. 5
Macklemore – Can't hold us
Madcon – Don't worry
MAGIC! – Rude
Marco Borsato – Je hoeft niet naar huis
Maroon 5 – If I ain't got you
Maroon 5 – Moves like Jagger
Marvin Gaye – Heard it through the grapevine
Marvin Gaye – What's goin' on
Matt Simons – Catch and release
Michael Buble – Everything
Michael Jackson – Billie Jean
Michael Jackson – Human Nature
Michael Jackson – Man in the Mirror
Michael Jackson – Rock with you
Nielson – Sexy als ik dans
Peter Koelewijn – Kom van dat dak af
Pharrell Williams – Happy
Prince – Kiss
Prince – Purple Rain
Queen – Don't stop me now
Racoon – Love you more
Robbie Williams – Angels
Robbie Williams – Let me entertain you
Robin Thicke – Blurred Lines
Simply Red – Stars
Stevie Wonder – I wish
Stevie Wonder – Master Blaster
Stevie Wonder – Signed sealed delivered
Stevie Wonder – Superstition
Sting – Englishman in New York
Swedish House Maffia – Don't you worry child
Taio Cruz – Hangover
Temptations – Papa was a rolling stone
Terence Trent D'Arby – Dance little Sister
the Baseballs – Umbrella
The Beatles – Come together
The Beatles – Hey Jude
the Monkees – I'm a believer
the Script – Break-even
U2 – Beautiful day
U2 – With or without you
Usher – DJ got us falling in love
Van Dik Hout – Stil in mij
Wild Cherry – Play that funky music