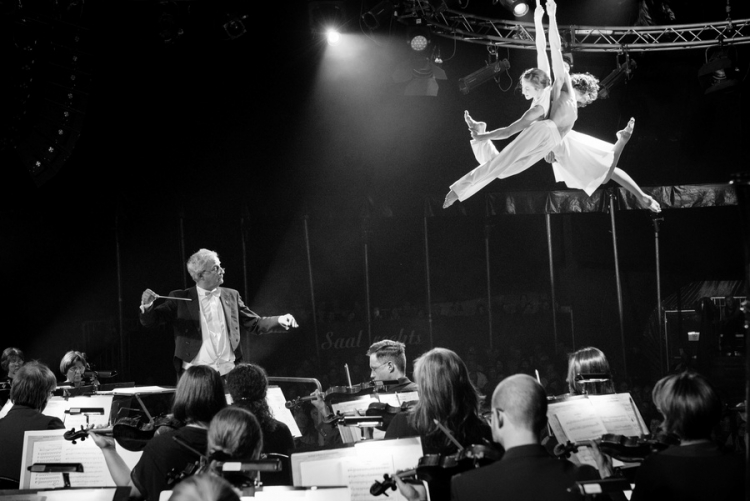 2 Artists

5-7 min

Dance, Acrobatics
The duo stage couple consists of the incredible Dutch acrobats Kami-Lynne de Bruin and Tarek Rammo.
Kami-Lynne de Bruin is a former rhythmic gymnast with two bachelor's degrees in primary teaching and social work. Specialized in a range of aerial disciplines such as hoop, silks, and straps as well as floor-based contortion. Her experience consists of Das Zelt, Cirque du Soleil, Ulrike Quade, 45 Degrees, and a wide range of special events and projects.
Tarek Rammo is a former gymnast who graduated from Codarts Circus Arts in Rotterdam. Tarek is a multidisciplinary circus artist specializing in pneumatic tires and acrobatic movements. In his Aerial Straps act, Tarek Rammo combines his high-level straps technique with elements of dance. His experience includes Cirque du Soleil, André Gingras / DanceWorks Rotterdam Ulrike Quade, the 7 Fingers, and many other projects.
Both Tarek and Kami-Lynne are former Cirque du Soleil performers. They have performed and toured extensively on national and international stages. From large-scale productions to intimate events, they have an undoubtedly broad range of experience as flying dancers. Together they take on to the stage mindblowing Duo straps Act with fellow acrobat Tarek Rammo. Kami-Lynne performs a solo act in Aerial Hoop. Both acts can be performed on a fixed height, as well as with a winch or flying system. Their duo performance will surely leave you mesmerized.
– Rigging point at minimum 5 meters height.
– Rigging point in the center of the stage.
– Working load of the rigging point minimum 400kg.
– Floor space minimum 6.0 x 6.0 meters.